Back to Blog
Futurice Head of Innovation Tugberk Duman discusses the future of travel on CNBC's The Edge
"For biometric boarding to really take off, multiple parties need to be onside." Tugberk Duman, Head of Innovation at Futurice, was one of the contributors recently on CNBC's The Edge, talking to presenter Joumanna Bercetche about his predictions for how facial recognition and biometrics will transform our experience of airports.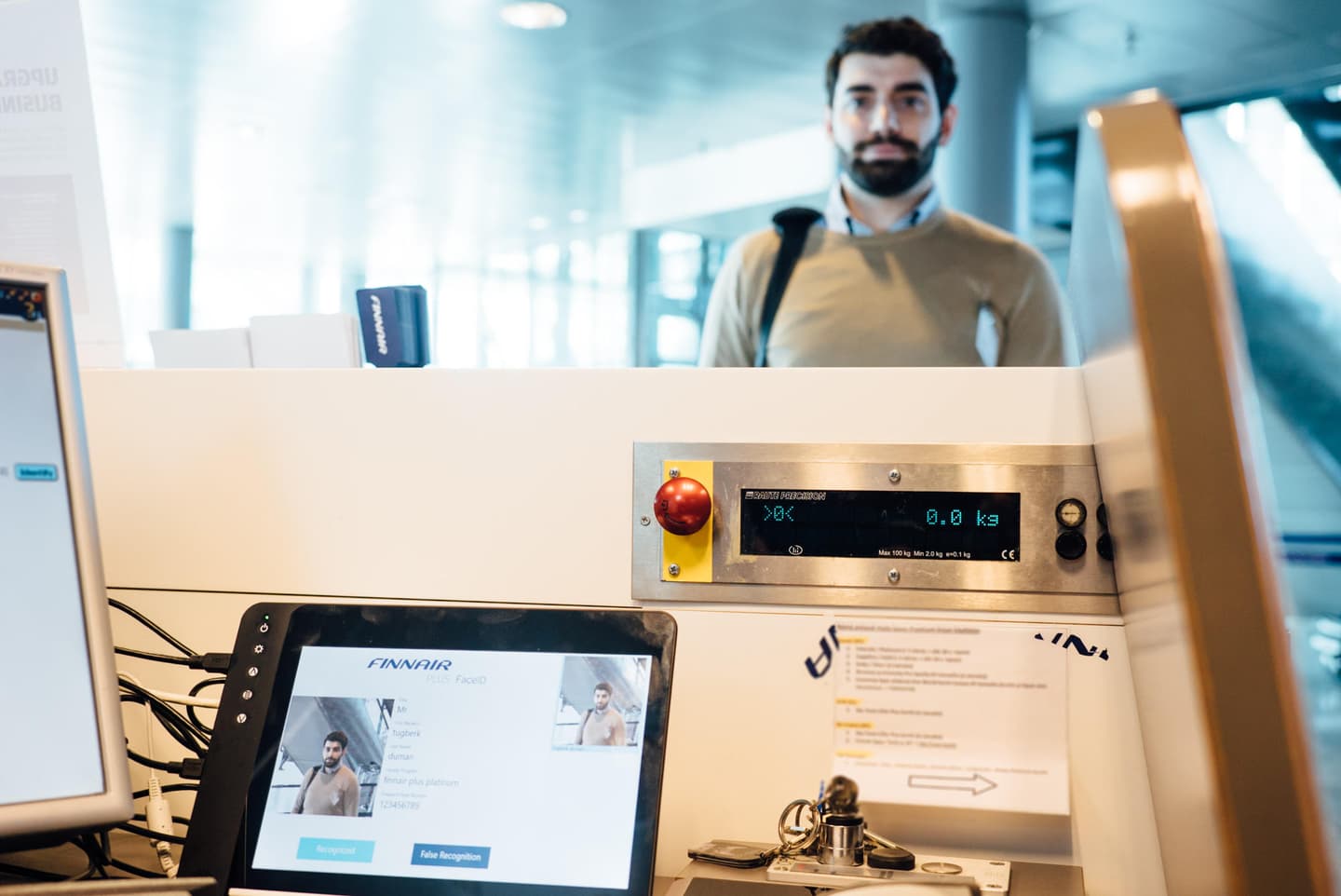 Duman shared with viewers the lessons learned from the 2017 Helsinki Airport face recognition experiment which allowed Finnair platinum and gold customers members to check in to their flights before arriving at the airport, using a dedicated facial recognition app.
"Airports are a massive eco-system, and a passenger journey consists of multiple checkpoints each owned by different organisations. For example check-in is the process owned by the airline, the security is owned by the airport, you go to the border and that involves the government. The gate is complicated because that's where the airport and airline work together."
"So if you want to introduce a facial recognition service which makes sense for passengers, it needs to cover all these touchpoints. Otherwise you will create duplication – exactly the problem that you're trying to solve by creating the facial recognition experience in the first place."
Duman thinks that this technology could eventually go beyond just the airports and create end to end fully seamless travel experiences.
"In the future mobile phones will store our digital identifiers, whether that is voice biometrics, iris biometrics, or facial biometrics. So If I'm travelling from London to Helsinki I would be able to use my biometric ID to unlock experiences throughout the journey."
"We're looking at a more connected eco-system in the sense that you could take the train to Gatwick for example, and there'd be a camera in the back of the seat. It recognises you and it starts telling you about your flight, maybe there's a delay you should know about. Or it might prompt you to inform your hotel that you're going to be checking in late."
"We will start to see a more connected experience throughout the entire journey. And one key element here is that biometric data will be owned by its rightful owner, in other words, the end user, and will only be shared on a need-to-know basis."
"When travel and hospitality eco-systems come together and learn how to share effective data and biometric ID in a way that is respectful to privacy – that's when we'll reach the ultimate seamless travel experience".
The programme also included interviews with other brands using cutting edge technology to take the travel experience to the next level including;
Virgin Galactic commercial director Stephen Attenborough telling viewers how his company is on track to take its first paying passengers into space from next year. Travellers (six at a time) will spend four days at the company's New Mexico base before a space tour, being comprehensively prepared for the ground-breaking experience. Tickets are set at an eye-watering $250,000 – but this hasn't put off the 600 people who have already paid.

Gregory Geny, the co-founder of subscription travel service Berightback, explaining how AI helps predict his subscribers' travel preferences via their social media content such as their Spotify music choices or Instagram posts. This then helps his team to plan suitable weekend breaks for them three times a year. Subscribers pay a premium for the highly personalised service that brb offers them.
Travel company TUI might be one of the more traditional travel brands but it too is using AI to improve its offering to customers. Virtual reality headsets help holiday-makers choose which excursions to go on, while augmented reality tech in an app guides travellers to the right bus at the airport and gives extra info as they move about on their holiday.

Infrastructure firm SITA has also been testing out the use of biometrics while boarding a flight to minimise the number of times travellers are required to show ID. Head of product development Stephen Challis says that airlines have found that air passengers can look forward to a 30% reduction in boarding time with the aid of facial recognition technology like its Smart Path app.