Back to Blog
Energy Expert Interview with Chris Baumann, tado°
As Head of Product Design at tado°, Chris Baumann knows how smart energy thermostats can efficiently reduce the energy consumption while enhancing user comfort at the same time. In this interview, he gives away his take on the impact of smart energy use on the business side, data regulations and smart grids in the energy market.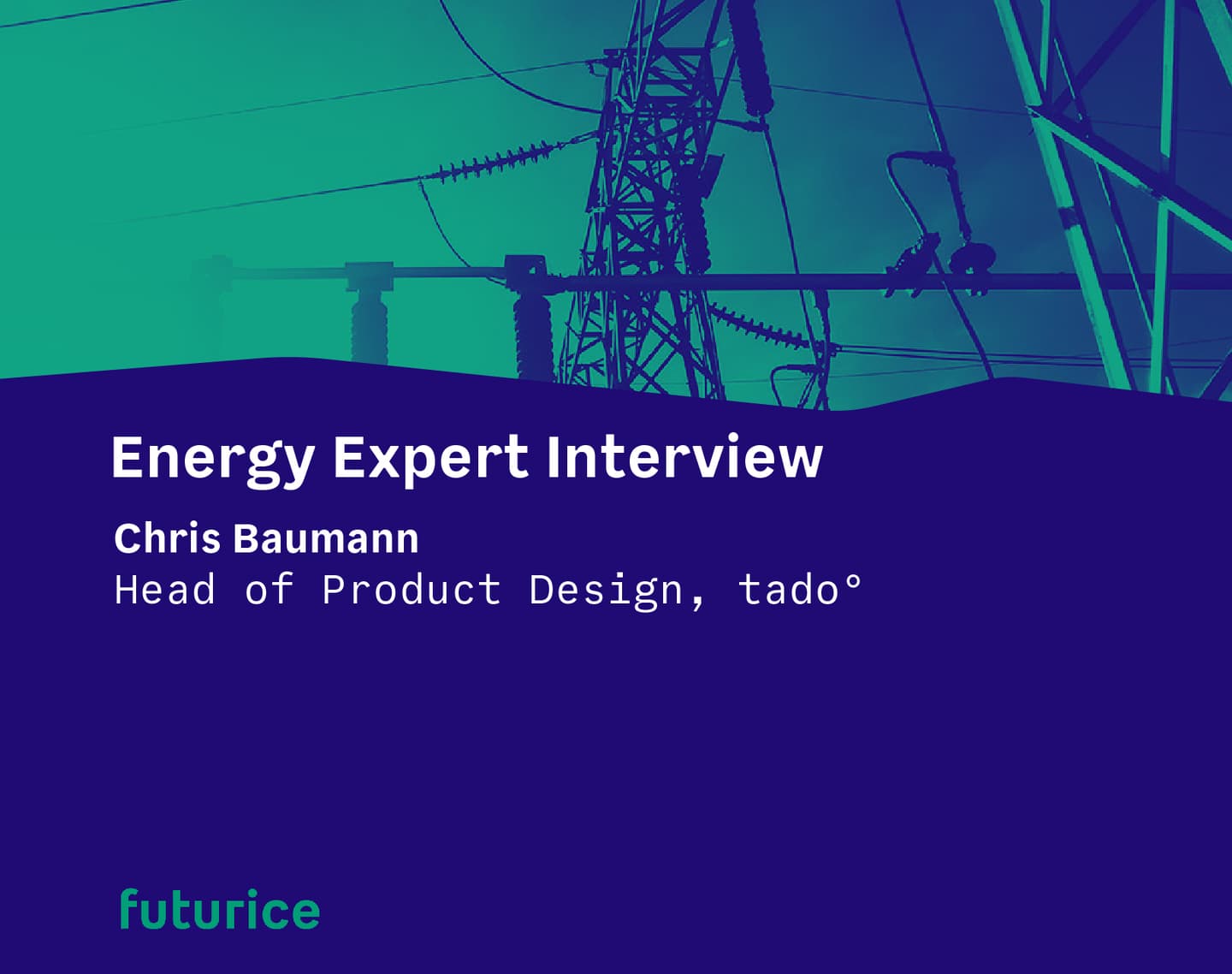 With its Smart Thermostats for heating and cooling, tado° is one of the leaders in intelligent home climate management. How have smart thermostats changed the way energy is consumed and business is made?
Smart thermostats ensure that heating and cooling systems only run when users really need them with just the right level of output – all automatically. Adding this smartness to traditional heating systems can significantly reduce the amount of energy consumed to heat and cool buildings. Energy is therefore consumed more efficiently while also enhancing user comfort.
On the business side, the impact of smart thermostats is diverse. Since smart thermostats can read data from heating systems and transmit them to the cloud, they can support energy players in offering more relevant services. In a demand response market, large loads of energy can be turned on or off via smart thermostats in users' homes to contribute to grid stability and generate revenue.
Despite the benefits, many users are hesitant towards the installation of smart thermostats because of security concerns. What can energy companies do to increase their acceptance?
Smart thermostats and smart home tech in general are still something very new and unknown to the majority of people. It takes time to build user trust with new technologies. Recent data leaks and inappropriate usage of user data (e.g. Cambridge Analytica's use of Facebook user data) contribute to these concerns.
Energy companies, like any other player in the smart home space, need to act responsibly, use the latest security standards, and be transparent in communicating how they use their customer data and what data security measures they have in place. Many user concerns are based on a lack of knowledge rather than on facts. To address this issue, it's our job to help educate the market and to be clear in our communications.
My personal experiences while interviewing tado° users is that they weigh the added value of smart home technology higher than a potential risk. However, our users are not yet a cross-section of society.
tado's products offer services like geofencing, weather adaptation, or open window detection - functions that strongly depend on data. How would you describe the role of Data & AI in reshaping the energy business?
Smart energy behavior in our products is based on algorithms built by the team and based on extensive user research. The algorithms are then operating automatically - based on the user data they are fed with. Precise and convenient energy businesses can enhance their offering by using data in smart ways.
Already today the energy business with its connected grids is very data based and some of the upcoming complex challenges like grid stability can only be solved by making smart use of data.
The role of energy players has changed tremendously over the last couple of years. What would you recommend to energy companies when building successful services?
Find out what users really need and build in the smallest possible increments. We challenge ourselves to follow these principles all the time. It's easy to get carried away by your own ideas and invest large sums in developing a product which in the end does not have a market.
It can also help to put the interdisciplinary group of people building the product into one room (the past months have shown that virtual rooms work, too), give them clear goals and the necessary freedom to figure out how to achieve them. Make sure you facilitate shared responsibility between team members, encourage them to focus on only a few topics at the same time, push for short development loops and shorten decision making processes.
Which role will design play in the future of energy?
The skillset of designers is very versatile and designers can contribute to different phases of discovering, developing and delivering a product to the market. In my eyes, the most undervalued contribution of designers are their skills in identifying relevant problems to solve and helping in critical assumptions to be tested with users. This is especially true in the development of new innovative products which are required in the current time of transformation in the energy industry.
Looking at the future of energy, what are the 3 technological or design aspects that will become most important?
What is "the" future of energy? The energy market is very broad and there are multiple developments happening in parallel. As a designer, I am most focused on which new experiences can be brought to users by those developments.
When developing new experiences and products that users are unfamiliar with, it is even more critical to speak to people, identify their needs and wishes, and test assumptions as early as possible.
About Chris Baumann
Chris Baumann is heading the Product Design department at tado°. Before joining tado° Chris was working as a Senior Service Designer at Futurice where he consulted clients in digital innovation in the energy and mobility domain.
About tado°
tado° is Europe's leading intelligent climate management company. tado° enables users to heat and cool more efficiently via a smart internet-connected thermostat and offers data-driven services related to the climate in private households.
Christina Klein

Marketing & Communications Manager