Back to Blog
Futurice Academy opens the door to lifelong learning
At Futurice, we think of careers as personal journeys fueled by inspiration and continuous learning. To offer people a way to kick-start their own journey, we launched Futurice Academy in 2022. It's a special four-month paid training program aimed at students as well as those interested in a new career direction. Maybe that group of future game changers could also include you? Read what the program is all about, as told by three Academy alumni and current Futurice employees.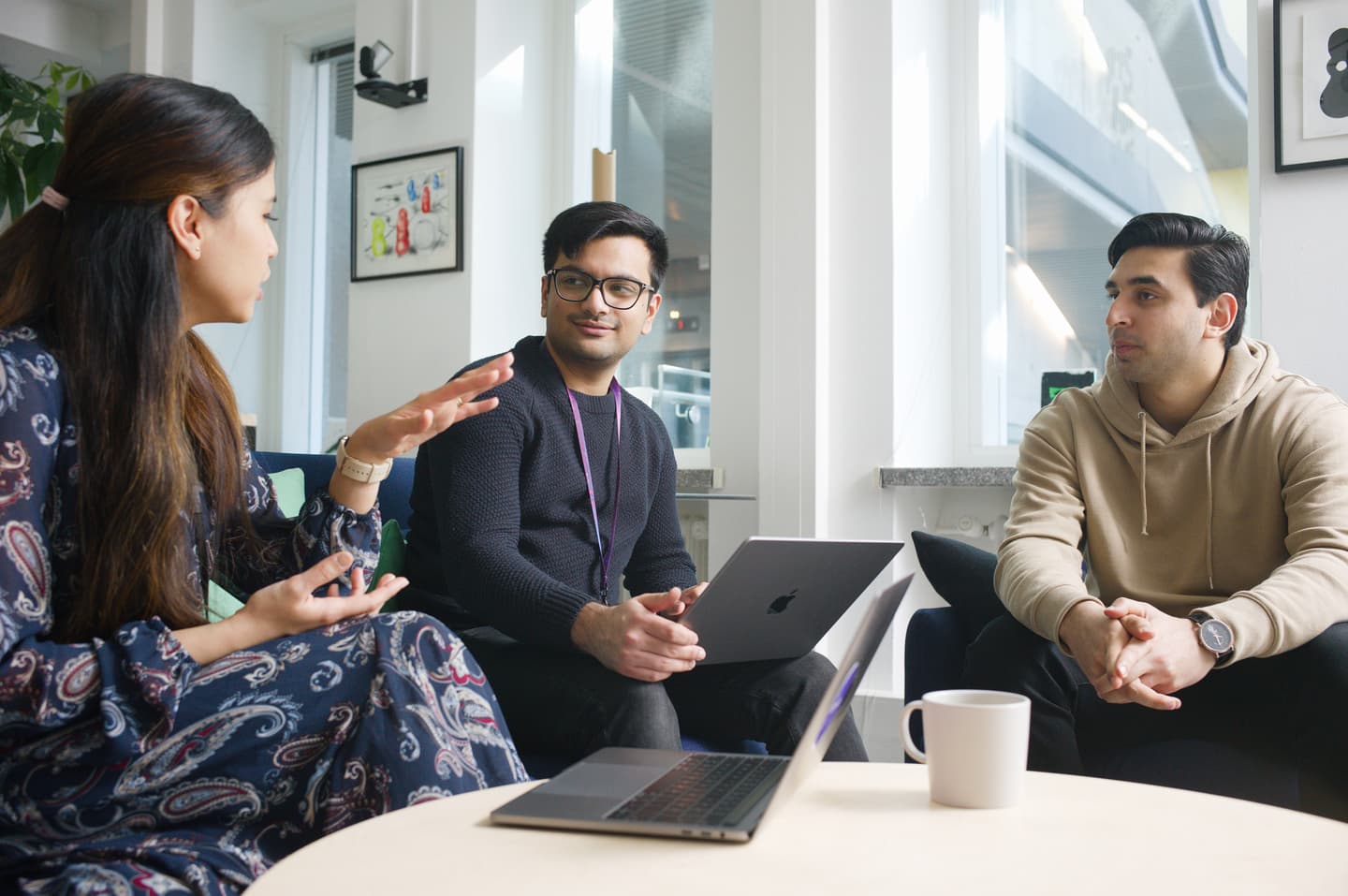 Futurice Academy is your chance to gain experience in building world-class digital products at one of Finland's leading digital engineering and innovation companies. The Academy consists of project work either on one of our client projects or an internal development project, or both.
Learning at the Academy is a unique combination of hands-on work, theory and mentoring. In the Academy, participants get to work alongside an experienced cross-disciplinary team to learn the craft of modern software consulting.
On top of mentoring, learning and interesting projects, the participants get to network with our active international community, attend onboarding events, and enjoy a variety of benefits. It's also possible to continue your Futurice journey after the Academy.
But don't just trust us – keep reading and find out what three of our alumni – software developers May Salcedo and Arsalan Shakil and data scientist Irtaza Hashmi – have to say about Futurice Academy!
First, let's get introduced. Please tell us a bit about yourselves and your background.
May: I have over a decade of professional experience as a nurse, and I am originally from the Philippines. I have been living here in Finland for over 9 years. I have a family, including a 3-year-old daughter. I started coding as a hobby, got really passionate about it, and am now pursuing a new career.
Arsalan: I was born and raised in Karachi, Pakistan. I came to Finland in 2019 to pursue my bachelor's degree in IT. My hobbies revolve around academics as I wanted to become a physicist when I was in high school, but the IT industry caught me off guard, and here I am loving every bit of it. I also enjoy playing sports. My hobbies also include coding challenges, cryptography, cloud computing, movies (Star Wars rules!), and gaming.
Irtaza: I've studied Computer Science and Engineering at Technische Universiteit Delft in the Netherlands. Currently, I am a Data Consultant at Futurice. My hobbies include playing football, going to the gym, and running. I am originally from Pakistan and have lived most of my life in Finland.
Why did you decide to apply to Futurice Academy?
May: I saw Futurice Academy as a bridge to turn my coding passion into a professional career. I applied because I liked the recruitment process at Futurice – I actually applied a couple of times to a more experienced level before I got accepted.
Arsalan: I first found out about Futurice when my brother Numan Shakil, who also works here, took me to the annual FutuParty in 2019 and introduced me to his colleagues. That experience got me really interested in Futurice as a workplace because of its culture, values, polite and extremely talented people.
Irtaza: I was looking to switch to consulting and get a taste of it. However, because I was new to consulting, I also wanted to learn its methods, for which the Academy was the perfect opportunity. In addition to technical lectures on different topics, the Academy guided us to deepen our knowledge on the cloud.
How was the application process for you? What type of things did you include in it?
May: After my previous applications, I had gotten feedback on why I was not qualified at the time, which helped a lot. The application process was the best. I was informed of what was going on and what to expect. I included my website portfolio, GitHub profile with my personal projects, updated LinkedIn profile, CV, and a cover letter.
Arsalan: The application process was very smooth and seamless. When applying to Futurice Academy, I simply submitted my CV, cover letter, my LinkedIn and GitHub profiles.
Irtaza: The application process went smoothly for me. I included my resume, a cover letter and a couple of recommendation letters. Also, I included a GitHub link to one of my projects. Next, I had an interview with two technical people from Futurice. During the interview, we got to know each other a bit more and I presented my project, an artificial neural network (ANN) built from scratch that classified grocery items.
What was a normal day of yours like at the Academy?
May: First, planning for that day, then reading and writing code, reading documentation, learning new things, asking someone questions if I got stuck, and meeting with the team.
Arsalan: My normal day started with a cup of coffee and a 15-minute meeting with my team. I then checked my emails, Slack and LinkedIn just so I hadn't missed anything. After that, I started working on my tasks for the day, usually including creating digital platforms for our clients.
Irtaza: I'd have a cup of coffee and start working. I usually worked till 11:30 before I grabbed some lunch with a colleague. As I like different types of cuisine, I kept exploring different restaurants in the city center. I continued working till 17:00.
What kind of project(s) did you participate in?
May: The project – which is the same project I also work at the moment – was a professional kitchen AI app.
Arsalan: I was working on a project with cutting edge technology where we developed an indoor location tracking solution for our client and helped them explore emerging technology to scale their business.
Irtaza: I worked on a project where we used data to produce value and integrated predictive analytics and artificial intelligence into digital platforms.
What was your team like, and did you feel supported?
May: My teammates are so smart and intelligent. They really care and have been so supportive of my journey. They share their knowledge and expertise. I feel that I am so lucky to be part of this amazing team. I am learning so much while having these fantastic people around me.
Arsalan: My team consisted of very highly skilled individuals who supported me throughout the whole project. It gave me a lot of experience and knowledge about developing digital platforms in the IT industry.
Irtaza: My team consisted of a variety of consultants from different backgrounds. They were quite supportive when I joined, and helped me find my way around.
What would you highlight as the best thing about Futurice Academy?
May: Of course, the hands-on experience on the project and working with the team. The cloud and Scrum certifications helped me familiarize myself with the technical terms and frameworks before diving into the project.
Arsalan: My highlight was when I got the chance to meet all the Academy students and have pizza with them. I was very delighted to meet such a talented and diverse group of like-minded people.
Irtaza: The best thing about Futurice Academy was its format. It is perfectly balanced between both learning and gaining experience. As part of learning, we had various technical lectures and did cloud certifications. To gain experience, we worked on real-world projects, learned how they work and contributed to them.
Did Futurice Academy meet your expectations? Is there anything about it you'd improve?
May: Yes – my expectations were met, and no improvements come to mind.
Arsalan: When I started the academy, I was a bit skeptical, but the whole experience took me by surprise, and everything was above my expectations. One thing that I missed was interaction with more people at the start due to Covid, but that was something that couldn't be compromised due to safety precautions.
Irtaza: Futurice Academy exceeded my expectations. Every part of the way was smooth, and if we had any problems, we always found help and support help from other colleagues.
What does the Academy mean for your career, or for you personally?
May: Futurice Academy was a life-changing opportunity for me. I can see myself growing and evolving into a better version of myself. Also, I get to spend quality weekends with my family.
Arsalan: The Academy has given me hands-on experience in the industry, and also a chance to acquire my certifications to improve myself as a professional.
Irtaza: After the Academy, I started my career at Futurice as a full-time employee and I look forward to growing personally and professionally in the future.
Why did you decide to stay with Futurice after the Academy?
May: It was the amazing work culture and positive energy around me. Everyone is friendly and helpful. I can see the Futurice core values such as care, trust, transparency, and continuous improvement in my daily work. I see myself growing professionally as Futurice continues to grow.
Arsalan: I am continuing as a full-stack developer at Futurice, as I think there is a lot for me to learn there and continue my journey as a Futuricean.
Irtaza: I love Futurice's work culture. I felt like it's something for me and I would love to continue working in this environment.
Any tips or words of encouragement for those thinking of applying?
May: Keep your LinkedIn updated and your GitHub active, have your website portfolio, curate your CV to fit the position you are applying for. Also, make your cover letter concise, but mention your intention, motivation, current situation, skills and what you want to become. Doing the assignment will showcase your current skills.
I'm a middle-aged woman with a different educational and professional background and raising a young family. Switching industries at this point in my career – especially into the tech industry – was not a walk in the park, but Futurice Academy has given me that life-changing opportunity. You can do it too.
Arsalan: Make sure you want to learn and improve yourself as a professional, as the Academy will give you the chance to learn from highly skilled professionals in the IT industry.
Irtaza: Don't think, apply. You won't regret it.
Check out more information and application instructions on the Futurice Academy page!
Anu Ansolahti

Talent Partner, Finland

Minna Ruohonen

Talent Partner, Finland