Back to Blog
FutuStories - Meet Joel, Senior Software Developer
Globetrotter Joel has experienced working culture in Latin America, India, Silicon Valley, and Europe, and shares his personal insights from his journey around the globe. As a software developer in Munich, he likes to engage with projects that give back to society.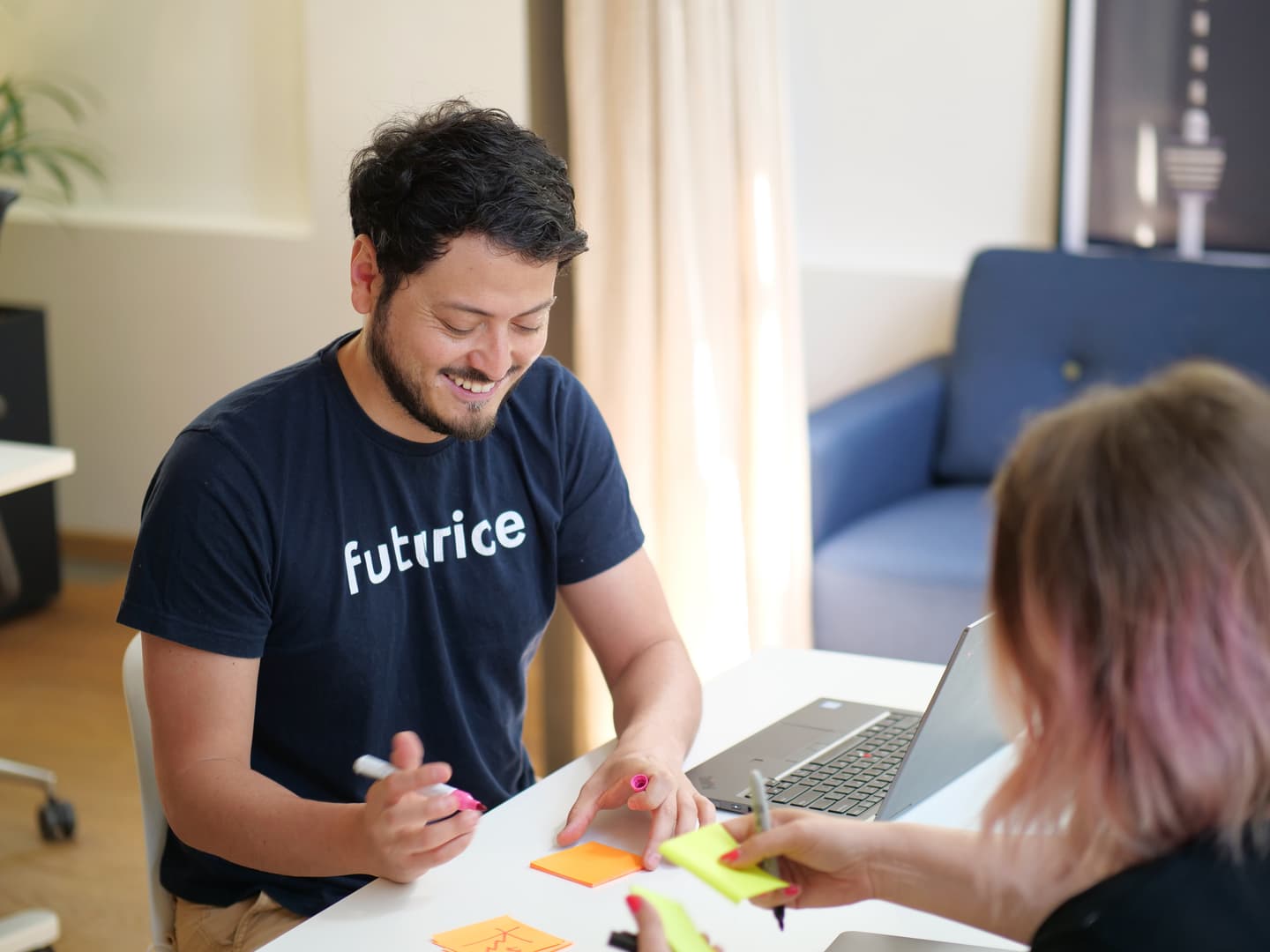 You have been to many different places over the years. What have been your biggest takeaways from your stops around the globe?
I grew up in Mexico, spent a year abroad in Brazil in high school, started university in Mexico, and took a summer job in India. After graduation, I moved back to Brazil for work, then went back to Mexico, and eventually took another job offer at a startup in Silicon Valley in California. After we achieved product stability, I left the startup, and travelled the world for another year and a half. Later, I completed my masters in Helsinki and Paris, including a project in Tanzania. What I learned during my travels was that I am a building type of person who needs to create and build things. Besides, I learned to cope with different people and environments and I discovered that at every moment of life, I have the power and privilege to change my environment and circumstances.
Have you perceived major differences in the working culture and mentality in different places?
Definitely. Personally, I really enjoy the process of absorbing my surroundings and adjusting to a region as part of the cultural learning. When it comes to working conditions, the different places all have their pros and cons. While I experienced India as the country of extremes and the Indian corporate culture as quite hierarchical, the San Francisco start-up mentality is also extreme in its own way. In more modern companies in Latin America, you can find very close relationships between co-workers. Some of my closest friendships date from my time there. Europe is very employee-oriented. Both employees and employers see the importance of a good work-life balance and no one questions the value of vacations and taking some time off to recharge. These are personal observations, based on my own experience.
Working in Silicon Valley is a dream not only to people working in tech, but also many other fields. What is it like and what made you leave?
Silicon Valley is a special place and I do miss it. I haven't found another place with such a specific mix of people from all over the world who feel it is within their power to change the world. I benefited a lot from having access to some of the brightest minds in tech there, and I learned a lot. A mix of factors made me leave San Francisco. At the time, I was extremely happy with my contribution to the project I was part of and I felt it was time to move on. At the same time, I understood that Silicon Valley can make you feel very disconnected from the rest of the world. I've always been involved with the needs of developing nations. Also, I felt I was ready to try something else. So I used my time after leaving Silicon Valley to travel around the world for one and a half years.
You graduated with a double degree in HCI & Design from Helsinki and Paris. Why did you end up choosing Munich as your hometown?
Munich weather. :) I also noticed that Munich is the southernmost city in Europe with the highest salary for software developers. In the end, my decision to move to Munich was a combination of factors. I knew Futurice from Helsinki, and was pleased to discover another office in Munich! I had visited Munich as a tourist before, and loved the nature-y atmosphere. Today, and especially during the lockdown due to COVID-19, I place an even greater value on the green inside and around Munich.
What's the best thing about your new job? And what could we as a company still learn?
The people! The company culture has been very important to me when choosing a new company to work for, and Futurice was a perfect choice. I also really like the relationship between tech and design at Futurice - always moving together. And lastly, I really enjoy that Futurice allows me to try new things, especially new technologies, languages and ecosystems. What could be improved? I think I would like to see a more diverse client base. Munich is very automotive-centered, but I think there is a lot more creative and innovative stuff happening here, too. I am already excited to put myself out there to find these clients at meetups.
Which projects do you have a real passion for? Which ones would you rather leave behind?
I'm happy to engage with any project that involves innovation and/or the freedom to use new technologies. I also really like open-source philosophy, and I am hoping to become more engaged with open-source projects. Generally, I feel a project that contributes to society is a good cause to get invested in. I have also been teaching basic front-end development skills to migrants in a program called REDI here in Munich. The only work I would ditch are projects for companies that have unethical practices. However, I haven't come across any at Futurice so far, as everyone seems to share a common moral code inside the company. Still, I am sure that even if I raised these or other concerns about a project, I know that my opinion would be heard, respected and treated in a fair manner by my colleagues and supervisor.
While it seems like the world is your playground, have you also reached personal limits on your journey?
I've learned to express myself quite well and I've become prepared to stand up for my own opinion. So when something doesn't feel right, I am outspoken about it, and in order to stand up for my own needs I would change things right away. I think that is how I have spared myself a lot of bad situations in the past. I've also been lucky enough to be surrounded by good people and mentors.
What are you passionate about in your free time?
I have been practicing Capoeira for a few years now. It is not only exercise, but also a very social activity, so it has helped me make friends wherever I am. I love to be in nature for hiking, biking, or camping. I especially enjoyed the camping culture in California: simply getting into a car, discovering uniquely beautiful places in the mountains, desert and by the sea, and having a campfire in good company.
If you were free to go anywhere right now, where would that be?
A beach with an internet connection! I miss the beach, and I would love a vacation in a warm place. Long term, I am very comfortable in Munich at the moment, and I don't see things changing anytime soon. I am always down for small adventures in the region.
What do you hope will change in our world over the next 20 years?
In general, I wish we took better care of the environment: less meat consumption, higher taxes on pollution, and more recycling regulations for retail. At Futurice, I wish to find even more creative and innovative projects, as the feeling of creating something is what makes me feel good.
---
Interested in reading more stories about us and our people? At Futurice, we celebrate diversity and cherish everyone's unique journey. Check out our Welcome Home page and get inspired by more journeys shaping our culture. If you would like to read more stories and get to know our people, our sites and the community better, check out the global version of our FutuStories Booklet.
Christina Klein

Marketing & Communications Manager