Back to Blog
Adding value with digitized workshops – three steps to after sales success
This is a time of multiple parallel changes in the automotive industry. The current shift from petrol to electric vehicles (EV), a shortage of skilled workers, and the rise of emerging technologies, connected and potentially autonomous vehicles (AV), and the sharing economy have all led to market disruption, which is having a dramatic effect on automotive aftersales.
The overall automotive aftermarket is projected to grow at roughly 3% per annum, reaching approximately EUR 1,200 billion by 2030. But the value of this growth will not be felt by all players – shared vehicles will have a higher annual maintenance spend while autonomous and electric vehicles will require less maintenance. The dominance of EV and AV means this will result in a net decrease in the aftermarket value per vehicle.
Automotive OEMs are already facing challenges in the aftermarket sector. A shortage of skilled workers is hindering the market move towards EV, paper-based processes are leading to inefficiency and a lack of transparency, and the tendency of most owners to pursue a maintenance strategy of run-to-failure leads to sudden damages which complicates planning. OEMs are also operating in a complex ERP landscape with many legacy systems that can't be integrated. These issues are soon likely to be even more keenly felt – a majority of aftersales market experts expect to see new digital players such as eBay or Autodoc enter the game and gain a notable share of revenues by 2030. How can OEMs adapt their after sales and after market processes to best cope in these challenging conditions?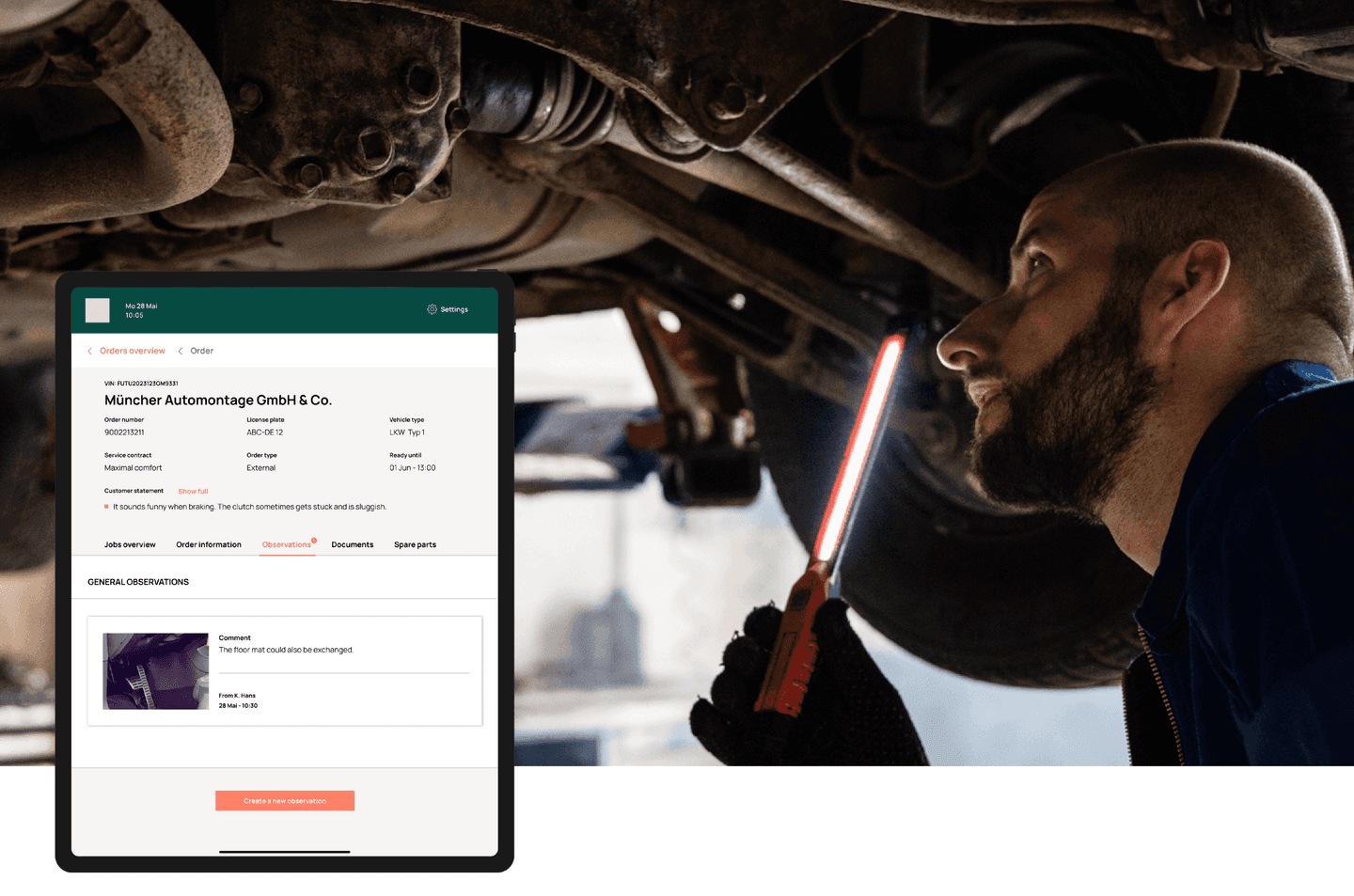 The power of digital
A key part of the answer is digital transformation, which can help deal with these challenges and add value by:
Tackling the skills shortage of workshop personnel, especially for EVs. Digital processes help compensate for skills shortages by facilitating knowledge sharing, ensuring greater access to information, and offering AI-based intelligent insights, all of which leads to improved decision making, more efficient usage of the time, less focus on repetitive tasks or documentation/research.
Improving the employee experience, increasing retention, and attracting talent. Digitalization helps create a more enjoyable workplace with reduced complexity and workload for service support personnel. Automated processes reduce the risk of human error and enable design solutions that help employees to do their jobs more effectively while offering continuous learning opportunities.
Improving service quality and the customer experience. Digitalization can enable quicker repairs, greater transparency and communication during servicing, and a more pleasurable experience for customers and employees alike by reducing pain points like re-entering information.
Improving spare parts management and enabling smart warehousing. With digital solutions you can reduce costs and increase efficiency when it comes to spare parts, speeding up the repairs process and improving the experience for both customers and employees.
Paving the way towards future maintenance models. Data collection and analysis unlocks new service models like predictive maintenance.
Documenting errors for analysis. Insights that have been collected digitally can be automatically fed back to the R&D department to improve engineering, influence new designs, and even create new services.
Case study: How digital transformation works in practice
With the newest generation of vehicles, it's crucial that workshop employees have quick and direct access to vehicle data. According to research by Louis and Alpar1, data transparency is a critical enabler for well-functioning shop floor processes. This is precisely what we set out to achieve with the digitization of aftersales workshop processes for a German automotive OEM.
First, it's important to explain what we didn't want to do: the goal was not to try and connect all the different legacy systems and data sources via APIs to have one digitized "master process". This would need massive upfront investment and take several years for the first results to appear.
Instead, we used an approach that enables us to create measurable outcomes with an extremely short time to value. We did this by following these three steps to achieve data transparency:
1. Create situational awareness
To identify opportunities for optimization, we aim to combine data sources in such a way that we get transparency of how well the service core process is performing. We use an agile, iterative, and user-centered approach that creates tangible results quickly, answering questions like: "What data is where?" or "Which workshop roles need which data and when?" For example, a workshop foreman has completely different needs than a mechanic working on a truck.
2. Change behavior and processes
The transparency gained from situational awareness enables us to create new processes with the aim of improving the employee experience without reducing workshop personnel numbers. As one example, a new process we introduced was digital-assisted knowledge management, which helps technicians to access any information they need when they need it – while empowering them to suggest new tasks they can perform. In another project outside the workshops we realized the automation and digitization of the company's end-to-end warranty operations. By including Machine learning into the process it significantly reduces the amount of time and resources a warranty claim process requires. All this was only possible as the data was transparent and available at first.
3. Support more processes with data
In order to improve the system and how people and machines interact, it's essential to repeatedly feed the newly created process with more data and create learning loops. In our project, workshop data was used as input for further development activities in the OEM's R&D department, with artificial intelligence analyzing the dataset for patterns, spotting trends, and raising flags if needed.
With this three-step approach we were able to greatly improve the throughput of the customer's service core process, leading to a significantly higher workshop utilization rate. Due to the higher process transparency, the automotive OEM is now able to provide feedback to vehicle owners or fleet managers more quickly, which has a positive impact on vehicle uptime.
Futurice can help with your digital transformation
This case is a good example of true digital transformation, showing how digitalization of analog processes and the creation of a digital backbone has directly improved the experience for users. With better access to relevant data and information, each workshop employee can act more autonomously within their particular role. The improved transparency has a direct impact on the employee experience and leads to a better customer experience through improved vehicle uptime. As with any data-led work, the higher the quality of the data and the more open the access to it, the greater the benefits that can be achieved. To ensure the greatest degree of access, improved data literacy is an important first step on the long journey to becoming a data-enabled organization.
Continue reading about our work in the Mobility industry here.
1 LOUIS, J. P., ALPAR, P. (2007) "Flexible Production Control – A Framework to Integrate ERP with Manufacturing Execution Systems". Proceedings of European and Mediterranean Conference on Information Systems 2007 (EM-CIS2007). Valencia, Spain.
Sebastian Philipp

Principal Mobility, Germany

Simon Messmer

Senior Service Designer, Berlin