Back to Case studies
Helsinki City: Improving capabilities for utilizing data ecosystems
Futurice clarified the City of Helsinki's possibilities around data ecosystems and the roles required to function in them, and created the tools to take charge of data ecosystem operations. As a result, the city can create new value for its residents as well as the partners and organizations operating in its sphere of influence.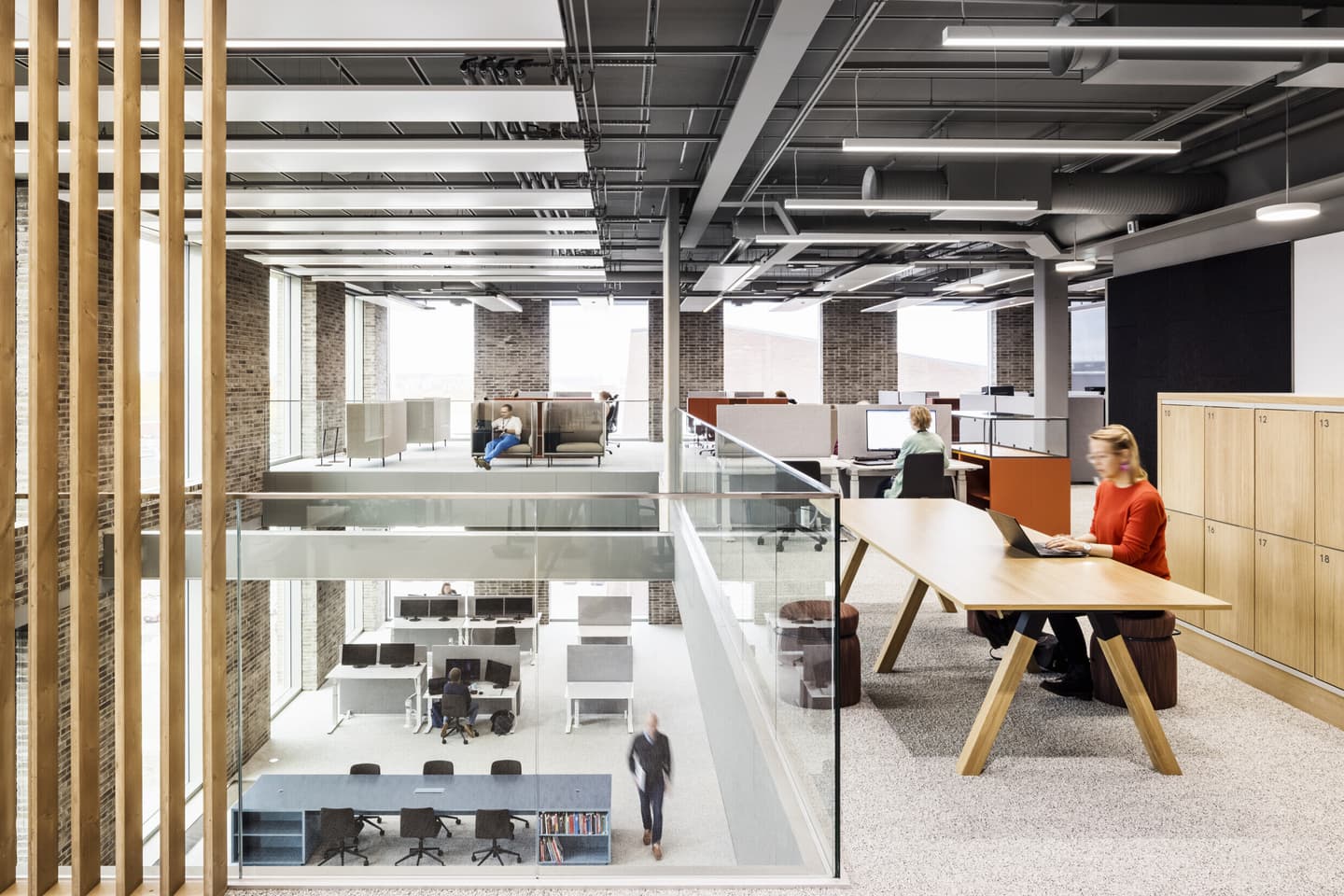 Future cities and societies are built with data, and run by sharing it. Data ecosystems are the key to increasing the value and effectiveness of cooperation between different sectors, operators, and stakeholders; enabling innovations; and, in the long run, finding the solutions for even the most difficult challenges through continuous interaction. It is essential for each actor in the ecosystem to have its own clearly defined role, especially the public sector and cities as the pioneers.
Data ecosystems are networks between companies, research, public administration, and third parties. Their goal can be, for example, to promote knowledge, innovations and businesses.
At its best, an ecosystem means networked cooperation between different actors and industries, guided by a common goal and roadmap. In a functioning ecosystem, the information and data that guide its concerted actions are openly shared. Technically, a data ecosystem is an entire set of components, technologies, and processes that are involved in collecting, storing, managing, analyzing, and utilizing data.
The City of Helsinki was already involved in several ecosystems, and had already made its data openly available in 2011. The challenge that the city was facing revolved around data-enabled value creation and impact – how could the city efficiently identify tangible possibilities, innovate new ecosystems, and particularly understand people's roles and the necessary tools involved in it?
A practical starting point for establishing, operating, and developing data ecosystems efficiently.

Creating a culture that motivates people and attracts top talent.

Encouraging the city and society toward more open and secure information sharing.
We ran an agile co-development process with people from the different divisions of the City of Helsinki. We started out by looking at the divisions inside out and identifying the city's current services that were involved with ecosystems, and then proceeded to interview the stakeholders associated with these services. We soon discovered that the ecosystemic structures were complex and involved a lot of ambiguities that made cooperation difficult. Furthermore, the coworking models were not standardized or replicable. Another particularly important aspect was that there were no product owners or allocated resources for the data ecosystems.
From there, we divided the complex processes into smaller sub-entities and wrote detailed descriptions of the required new roles and responsibility areas. The new data ecosystem framework was created using design methods, concretizing abstract ideas into tangible form step by step, while carefully listening to the needs and ideas of the city.
We eventually arrived at the following role definitions, each overlapping between the platform and the ecosystem:
Enablers ignite the ecosystemic ways of working
Owners design and orchestrate the ecosystem's operational model
Operators maintain and control the platform
Data producers produce the required data

Data users create something new (e.g. services, knowledge) based on the data

Depending on the situation and ecosystem, the roles and responsibilities may vary and overlap. In any case, the framework makes it clear who does what and when, thus structuring the ecosystem's key narrative.
From the design perspective, the framework describes complex data ecosystems and the work involved in a visually simple and straightforward way. In addition, we created an ecosystem toolkit and a roadmap to provide people with a fast and smooth start.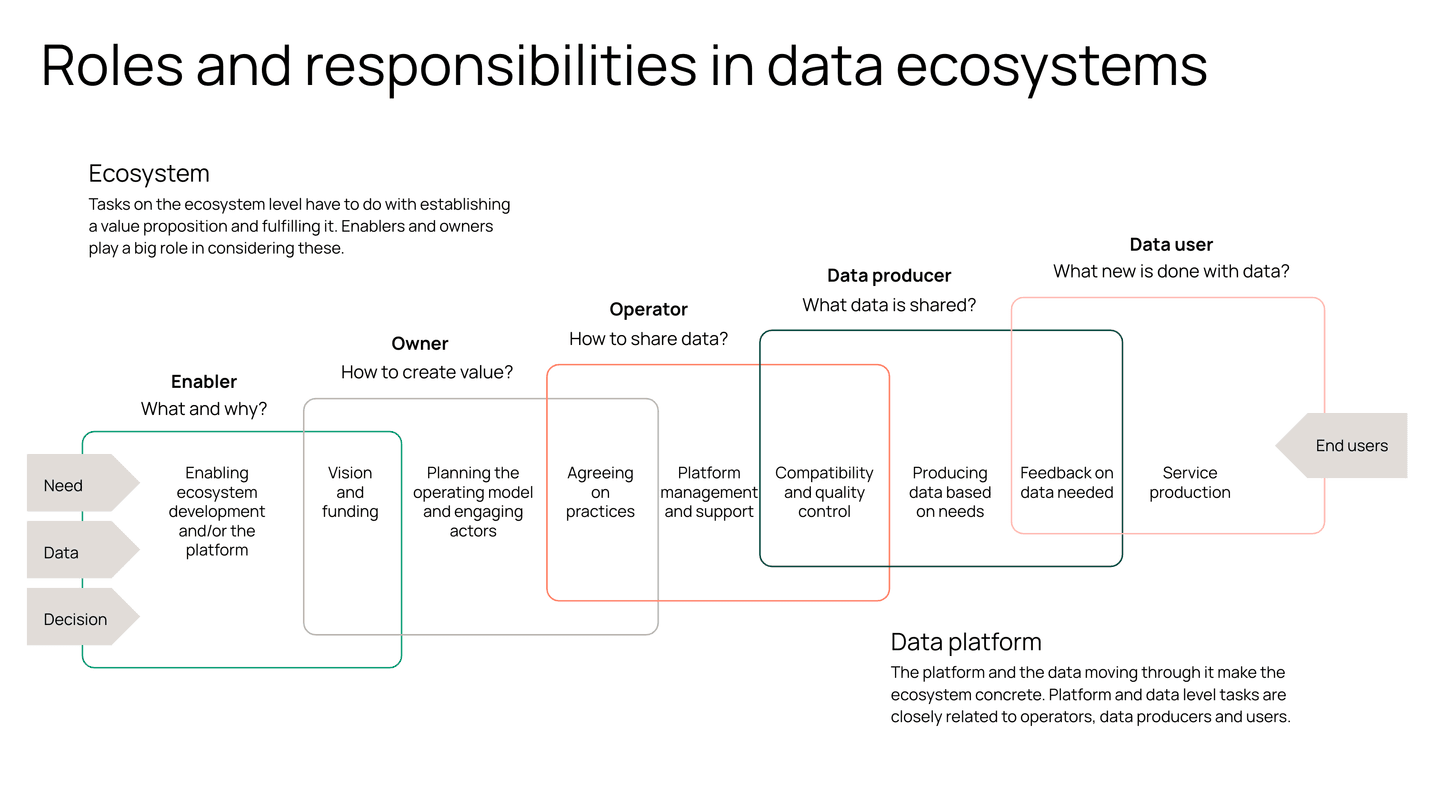 The City of Helsinki now has a practical starting point – the framework, guidelines, tools and a roadmap – to establish, operate and develop data ecosystems. The project created a common understanding of what platforms and ecosystems can offer for the city and what roles are involved. As a result, it is now much simpler for the city to take a stand on when, how and why to participate in ecosystems. In addition, their ecosystems are no longer run on an ad hoc basis, and there is no need to reinvent the wheel. Most importantly, as people become more familiar with data ecosystems and acquire the know-how to make things happen, they become genuinely inspired and their work becomes easier.
The possibilities of the City of Helsinki's data ecosystems are endless, whether in societal change, new businesses, services, traffic and infrastructure development, or partaking in nationwide transformation projects, such as Finland's digital compass. On a larger scale, the framework is an enabler of flourishing and sustainable data economies of the future – encouraging society towards more open and secure information sharing that benefits everyone.
The capital of Finland is home to nearly 650,000 people and is Finland's largest municipality and employer.
Main photo credit: City of Helsinki
Get in touch
Wherever you are on your digital journey, our services and experts can help you along the way. Let's get talking!