Back to Case studies
Jagex: Improving UX and tech stack with gamer insights
Jagex is one of the industry's leading community-driven games platforms, home to world-famous titles like RuneScape, which attracts players all the way from Europe to Central America. With a strategic shift towards becoming a games publisher front of mind, Jagex approached Futurice to help reimagine RuneScape's complicated games portal and lay the foundations for technical excellence in games publishing for years to come.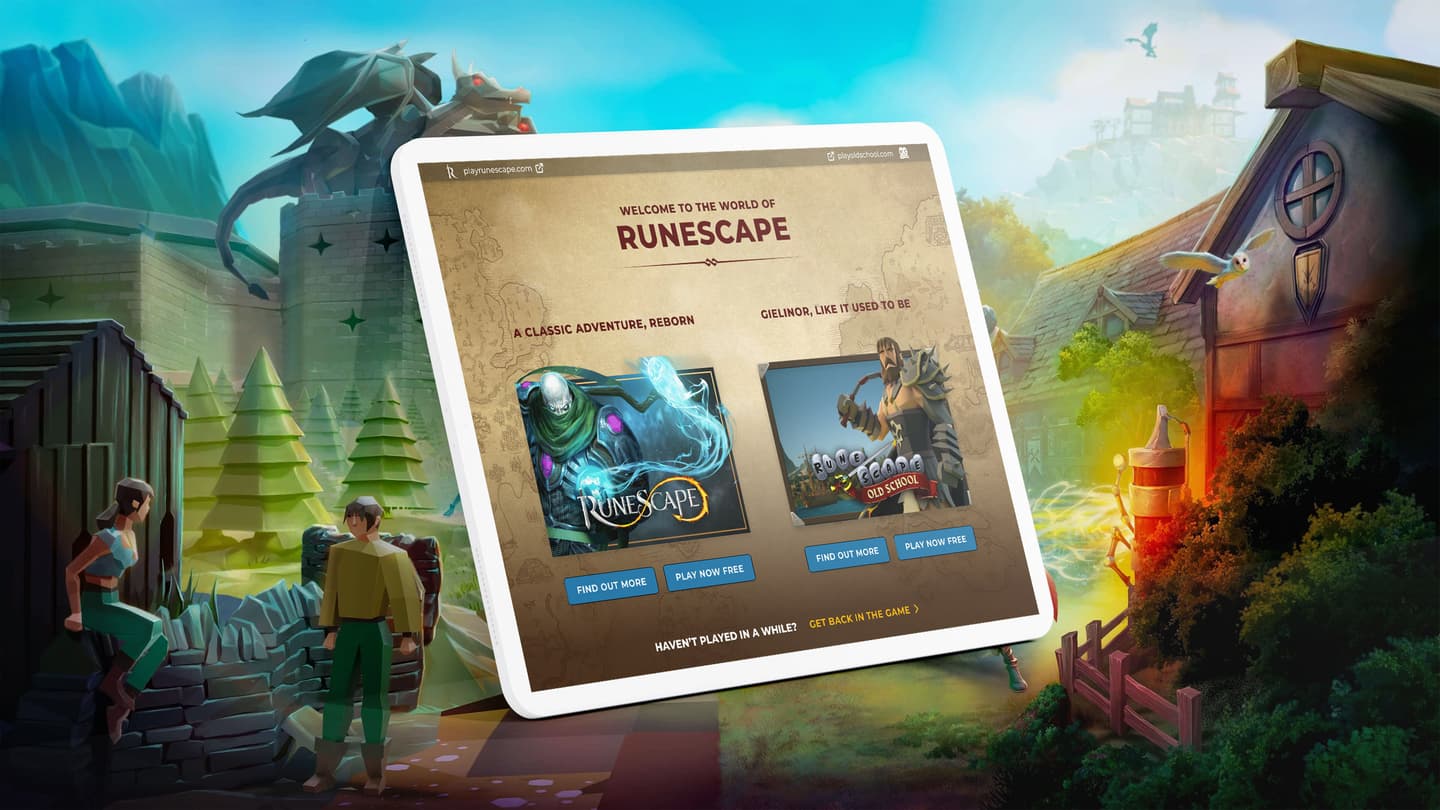 You might not know Jagex, but chances are you've heard of a game called RuneScape. With over 17 million active players – and hundreds of millions before them – this 'living world' game is a stalwart title for its creator, Jagex. RuneScape and Old School RuneScape are ever-expanding, community-driven online games bursting with activity and life. Players embark on epic journeys through a vast sandbox world that's full of gods, warring factions, unexplored dungeons, and glittering riches.
Jagex wanted to make the shift from being a games platform to a games publisher, bringing both titles made in-house, like RuneScape, and those from indie games houses to market. To lay the foundations for this strategic repositioning, Jagex asked Futurice to help overhaul RuneScape's complex website architecture, unifying both old and new versions of the game under one portal and giving its teams uncomplicated, fast access to content creation, code releases and a more powerful CMS.
Jagex prides itself on being a community-driven games publisher, with evergreen design philosophies, player empowerment and deep, evolving worlds at its core. Tapping into RuneScape's engaged community would be critical to the success of the project. We also needed to develop design and technical solutions that stand the test of time, protecting brand guidelines while also ensuring the platform was able to evolve responsively and publish content quickly.
A key part of the brief was to simplify the UX and UI around RuneScape's player journey, so that whether digging out a 10-year-old account or signing up fresh, players found it easy to find both Old School RuneScape and RuneScape. With a passionate following, Old School RuneScape had felt a little neglected in the past too – it was time that changed.
Community-driven website overhaul

A community-driven overhaul, unifying two domains into one

Improved UX and UI

Much clearer, aesthetically pleasing UX and UI

Completely rebuilt tech stack

A modern technology stack, with fast, responsive pages

Marketing-oriented design improvements

Bullet-proof design elements that empower the marketing team

Automated feedback testing for developers

An automated developer feedback loop for achieving best practice performance
Our first step was to run a gamer discovery and insight project, at scale. RuneScape's community is passionate and incredibly protective over how things look, feel and work. To ensure any changes we made matched the expectations of its loyal community, we used a platform called Remesh to facilitate questions about specific gameplay. In return, logged-in gamers answered in unison, generating a wide research net across demographics that would help keep development in step with what gamers wanted.
With the vision aligned, our technical work began in earnest. On the front end, the idea was to retain the spirit of the game by working closely with graphic designers to use existing assets and closely follow brand guidelines. The portal would firstly make the distinction between RuneScape and Old School RuneScape extremely clear and, secondly, it would look great. This work was backed up by a digital refresh of the player journey and inner workings of the back end tech.
The digital refresh involved completely rebuilding the technical stack on which the websites are built. We transitioned to a new marketing platform, replacing the old stack and changing to a headless CMS with Contentful, in combination with Next.js which works with React. It essentially creates a new framework for pre-building static web pages, optimized toward quicker response times. The idea was to create a fast CMS comprising just the content itself.
What this did was separate the content from the design, with fixed fields and guardrails to keep design consistent but new, dynamic content modules and templates aimed at empowering the Jagex marketing team to create quickly. We also added an integrated preview mode so editors can easily see if the content they're creating is going to actually look good before publishing.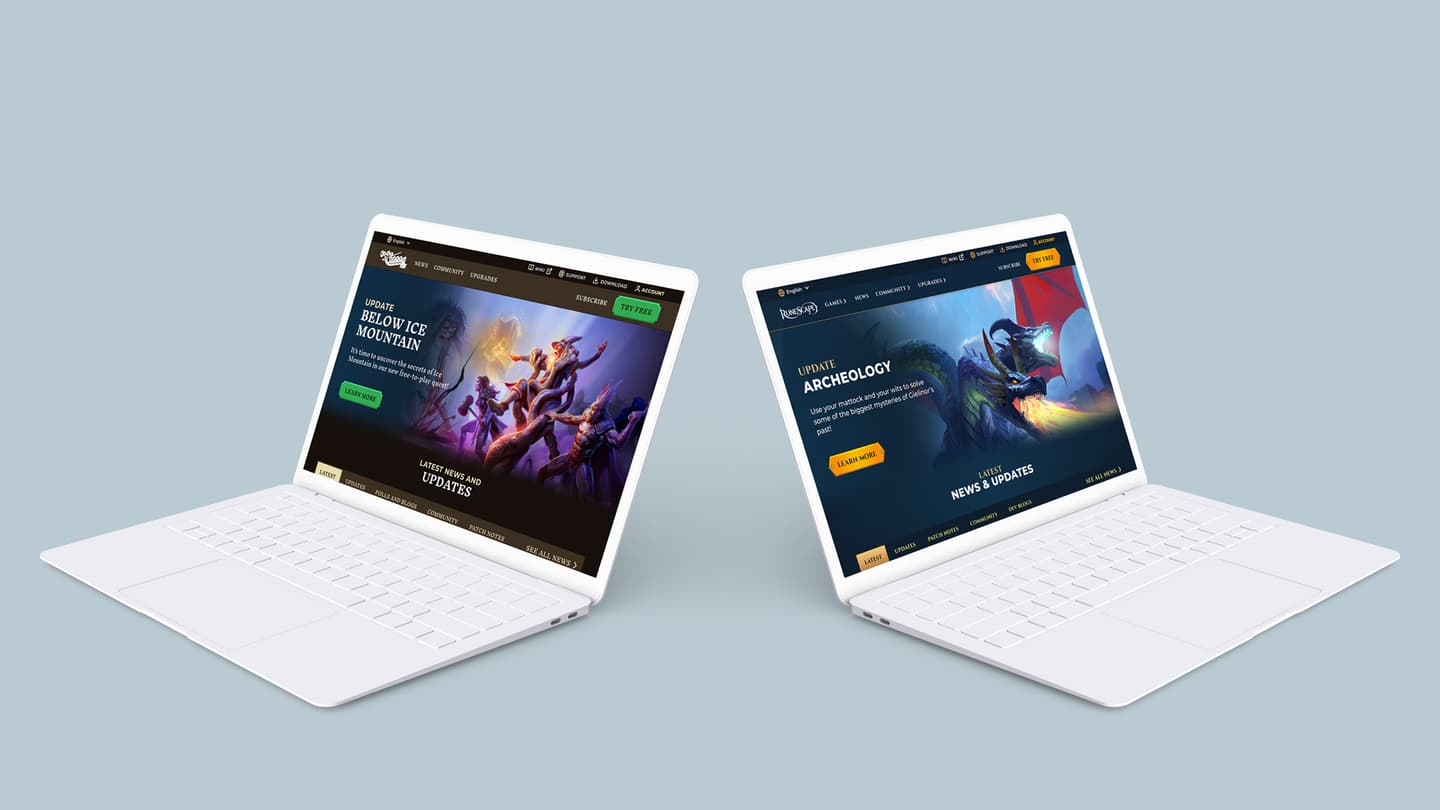 From a developer perspective, our aim was to deliver Jagex with a future-proof, scalable solution that would chase excellence and best practice. We wanted the platform to achieve consistently high standards for page speed and performance. To this end, we created a rigorous, automated test that developers can run new features through that either passes or fails – and provides feedback – based on the highest accessibility and performance standards. We trained Jagex's team up on the automated test and the new ways of working so they could maintain the platform at a consistently high level of performance.
The RuneScape community is 21 years in the making, passionate and engaged. A community-based games publisher itself, Jagex felt an obligation to fans to renovate the website, making new players feel welcomed and returning followers looked after. Our work will go a long way toward reinforcing its loyal fan base, its mission and its values – but also repositioning Jagex as a games publisher that looks after its players across multiple titles.
The new sites give players a much more engaging and visually appealing experience, with transitions, styling and animations that fit player expectations. Technically, a renewed, headless CMS and a modern tech stack, with a library of design elements, will speed up future development, connecting the marketing team, its KPIs and analysis to the wider mission.
A leader in creating deep and engaging live games on PC and mobile, Jagex's flagship MMORPG, RuneScape, has welcomed over 300 million player accounts to its world and is a $1billion lifetime revenue franchise. Today the RuneScape franchise exists beyond running games in live operations; Jagex titles are living games that connect and inspire millions of players, with content and experiences both inside and outside of inexhaustible game worlds. Both RuneScape and Old School RuneScape, on PC and mobile, offer ever-evolving, highly active worlds, and community-focused development ethos empowers players to have a real say in how each game is shaped. Jagex employs more than 450 people at its Cambridge, UK headquarters.
Get in touch
Wherever you are on your digital journey, our services and experts can help you along the way. Let's get talking!