Back to Case studies
Parkdean Resorts: Reimagining customer experience for a global leisure leader
The UK's largest holiday parks brand Parkdean Resorts underwent rapid growth following a series of M&A activity, resulting in a complex operating and tech environment. In a post-Covid setting, Parkdean saw an opportunity to "premiumize" its brand by re-inventing its customer experience. Futurice helped Parkdean harness digital technologies and upgrade legacy systems, transform its business around customer needs and create a more aspirational CX to position Parkdean as the best in its class.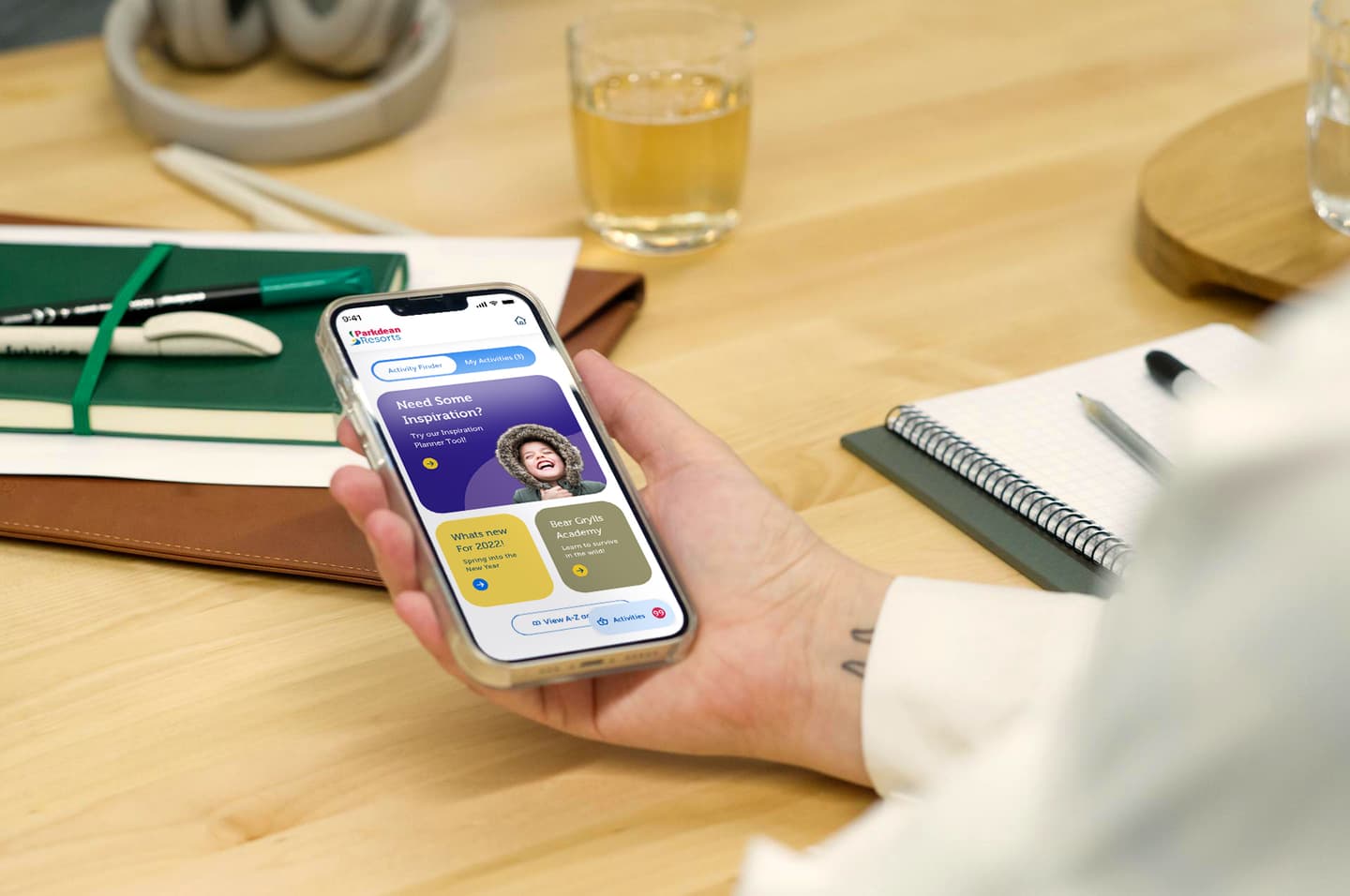 Technologies used
Microsoft Azure
Sitecore
React
Next.js
On the cusp of major growth, and at a turning point in the tourism industry, the management team at Parkdean Resorts knew it could reposition its brand through the prism of better CX. This vision included everything from better facilities to more efficient booking systems, upgraded menus and more: with tech at the center of everything.
The holiday park giant invited Futurice to help design a strategy that would leverage digital tech for the best possible CX – ensuring return visitors, even amid the competition of a newly reopened international tourism market. Our challenge was to help digitize key elements of the user journey, bringing tech skills in-house (rather than relying on third-party support), and updating and streamlining various legacy processes.
At the time of the project, Parkdean Resorts required its customers to dial into a call center in order to cancel or change the time of booked holiday activities. In addition, the company housed a number of different, somewhat clunky structures for booking holidays and making payments, inherited along its long heritage in holidays.
Futurice was tasked with threading together various forms of legacy architecture with a new digitized interface, including a custom-built booking app. We took a "learn by doing" approach, guiding Parkdean's growing in-house digital team in ways of working, while ensuring their internal capacity and capability for delivery, as their internal digital team grew.
This major initiative began by establishing an overriding digital strategy, by way of a workshop co-hosted by Futurice. The session helped determine where Parkdean Resorts should invest its time, money, people, and energy to kickstart their transformation into a self-reliant digital company. Part of our brief also involved supporting Parkdean Resorts as it migrated to the cloud with Microsoft Azure.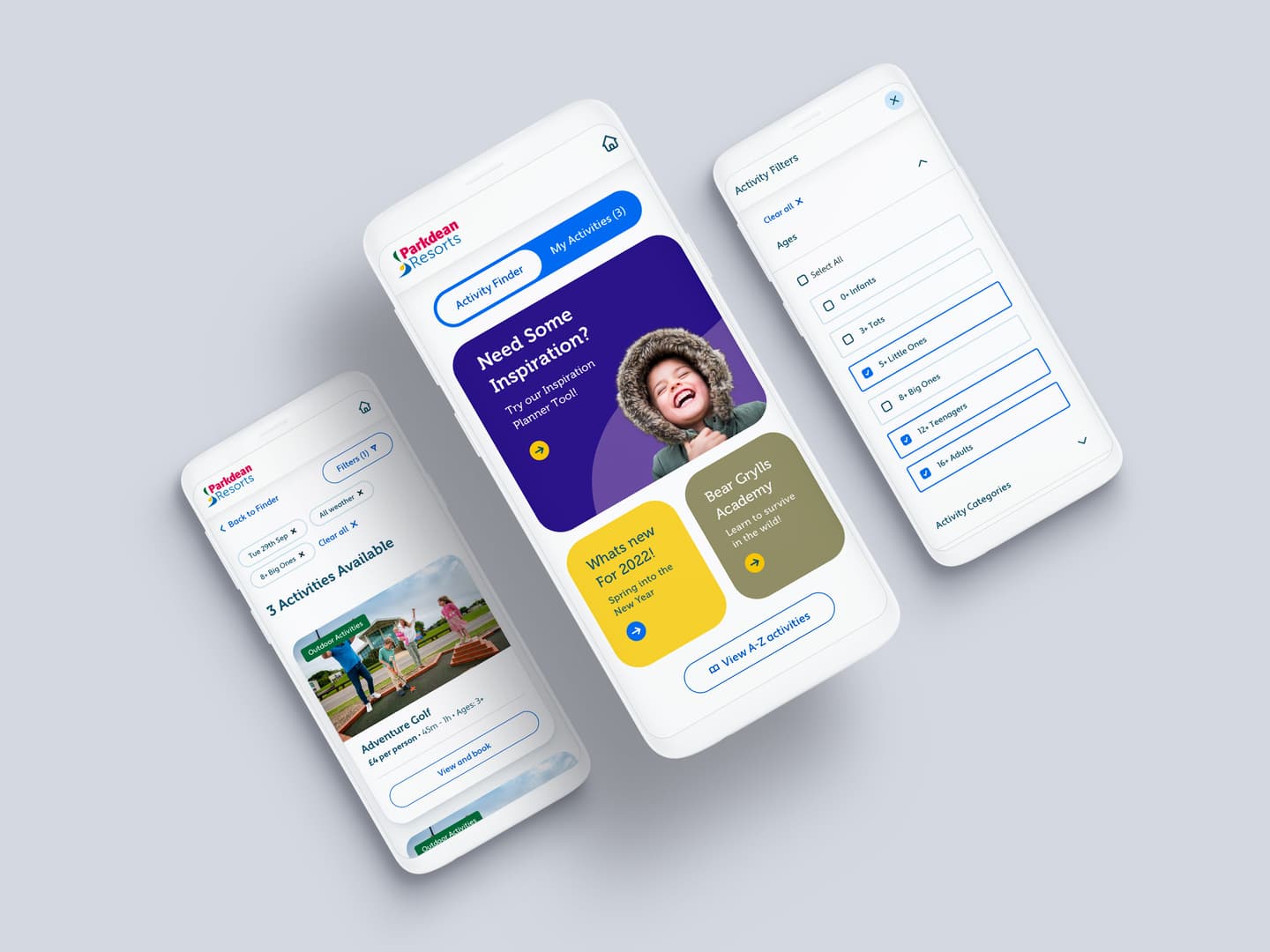 Digital capabilities are now in-house, with less reliance on external vendors.

Guests benefit from a transformed CX, including digital self-service.

The new digital center of excellence has brought digital and business stakeholder teams out of their silos to work collaboratively in shaping new digital services.

Operations are more efficient and responsive, requiring less call center investment.
Futurice delivered a specially tailored workshop to help business leaders across Parkdean Resorts identify major pain points and opportunities that digital growth could address. Using a cost-benefit analysis, managers were able to identify priorities for internal digital transformation across the company.
As a result, Parkdean decided to launch a center of digital excellence in Leeds, UK. This center comprised a cross-functional in-house team of business analysts, futurists, designers, software developers and business stakeholders, who came together to develop fresh ways of working, along with a set of best practices designed to complement a new, in-house digital service.
Led by Futurice, a newly-formed team also worked collaboratively to complete a service vision sprint to create a more usable, future-proof, and robust digital service for booking on-park activities. The aim was to allow Parkdean Resorts to create new functionalities such as cancellations and the ability to change activity times for customers using its parks.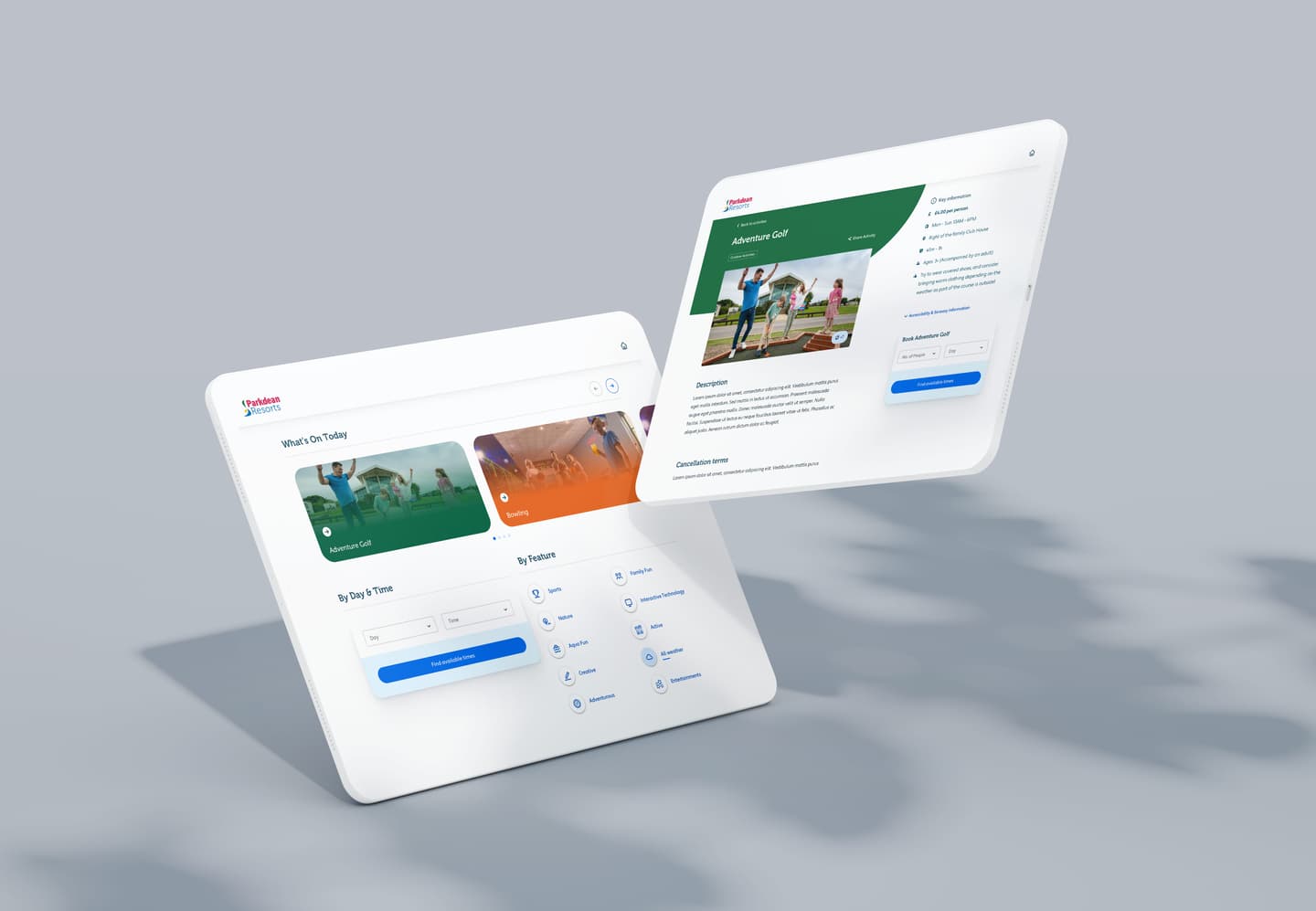 Along with the team at Parkdean Resorts, Futurice undertook a human-centric approach to setting the vision, leveraging design research activities to understand visitors' pain points with the parks' booking systems, and co-creating an improved customer experience. Additionally, this inclusive process identified opportunities to make parks more accessible to a broader audience base.
We then designed technical infrastructure to talk to the company's legacy systems, in combination with a new, cloud-based integration layer. This, along with our creation of a new app-based booking solution, helped to make the customer experience at Parkdean Resorts far more smooth and intuitive to use.
Additional work included deciding which new services needed to be created for the project, such as an updated payments process. We also designed Sitecore data models to accurately store activity images and descriptions.
This integration effort, along with building new functionalities, required us to work closely with the technical team at Parkdean Resorts on a journey of continual iterations and updates. The overall effect was to transform Parkdean's operations and brand positioning, via the lens of streamlined digital CX.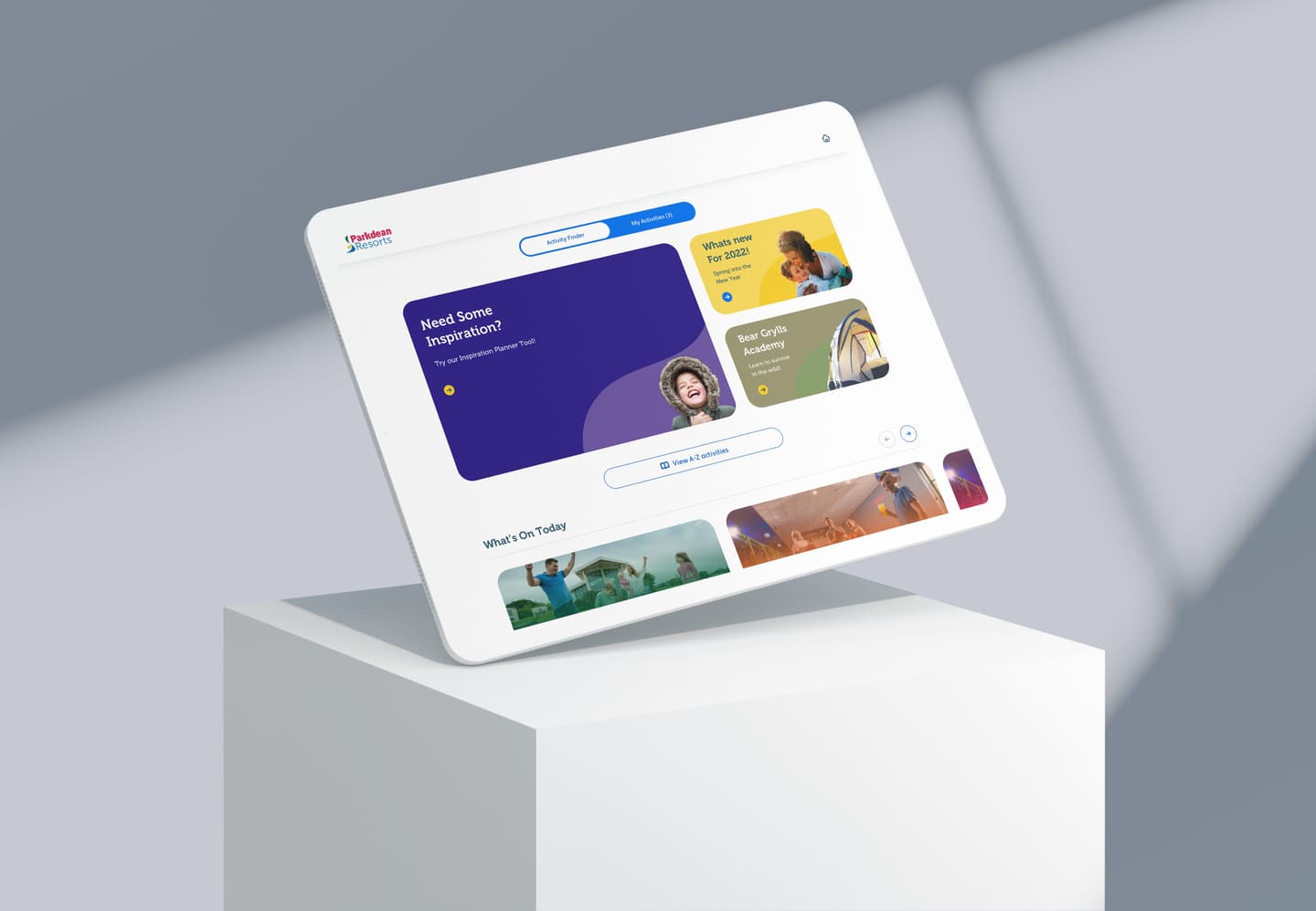 As a fast-growing UK holiday brand, Parkdean Resorts has to ensure it keeps pace in a rapidly evolving technical landscape. Our work with them helped them to fundamentally transform their brand, making it more aspirational and efficient via the foundation of digital CX.
This approach removed legacy systems as a barrier, brought digital and business stakeholder teams together to work more collaboratively (rather than in silos), and created a common platform for future teams to understand the processes used for further innovations and developments. Crucially, Parkdean gained in-house design and development expertise, which makes it a more powerful player in the crowded landscape of tourism.
The introduction of better CX has made a significant difference with Parkdean's target audience, too. Visitors can now find and book the activities they want in a much more seamless way than was previously possible. The impact of this enhanced user interface is expected to have a dramatic ripple effect on not just customer satisfaction but revenue spent per holiday. With a more streamlined booking solution at their fingertips, customers can more easily plan and book their activities ahead of arriving at their chosen park retreat.
By enabling self-service, Parkdean Resorts enjoys operational benefits by anticipating customer demand, and reducing labor-intensive manual support services. Allowing customers to manage their bookings directly increases customer satisfaction and reduces call center demand. Over time, this transformed digital experience will inspire even greater growth, helping the veteran brand pull ahead in a digital-first age.
Parkdean Resorts is the UK's largest holiday park company with 66 parks for everything from caravan holidays to lodge holidays. It offers fantastic breaks in England, Scotland, and Wales. The company was formed in November 2015 following the merger of Parkdean Holidays and Park Resorts.
Get in touch
Wherever you are on your digital journey, our services and experts can help you along the way. Let's get talking!