Back to Case studies
WRAP: Boosting recycling with accessible and impactful service design
Climate action NGO WRAP is committed to creating a more sustainable future by tackling the causes of climate change. During lockdown, the charity saw a surge in visitors to its flagship website Recycle Now. Keen to maintain this increase, WRAP approached Futurice for help in relaunching the website to motivate UK audiences to change their recycling behavior. With an emphasis on accessible design, Futurice simplified and amplified the message that recycling is something everyone should be doing.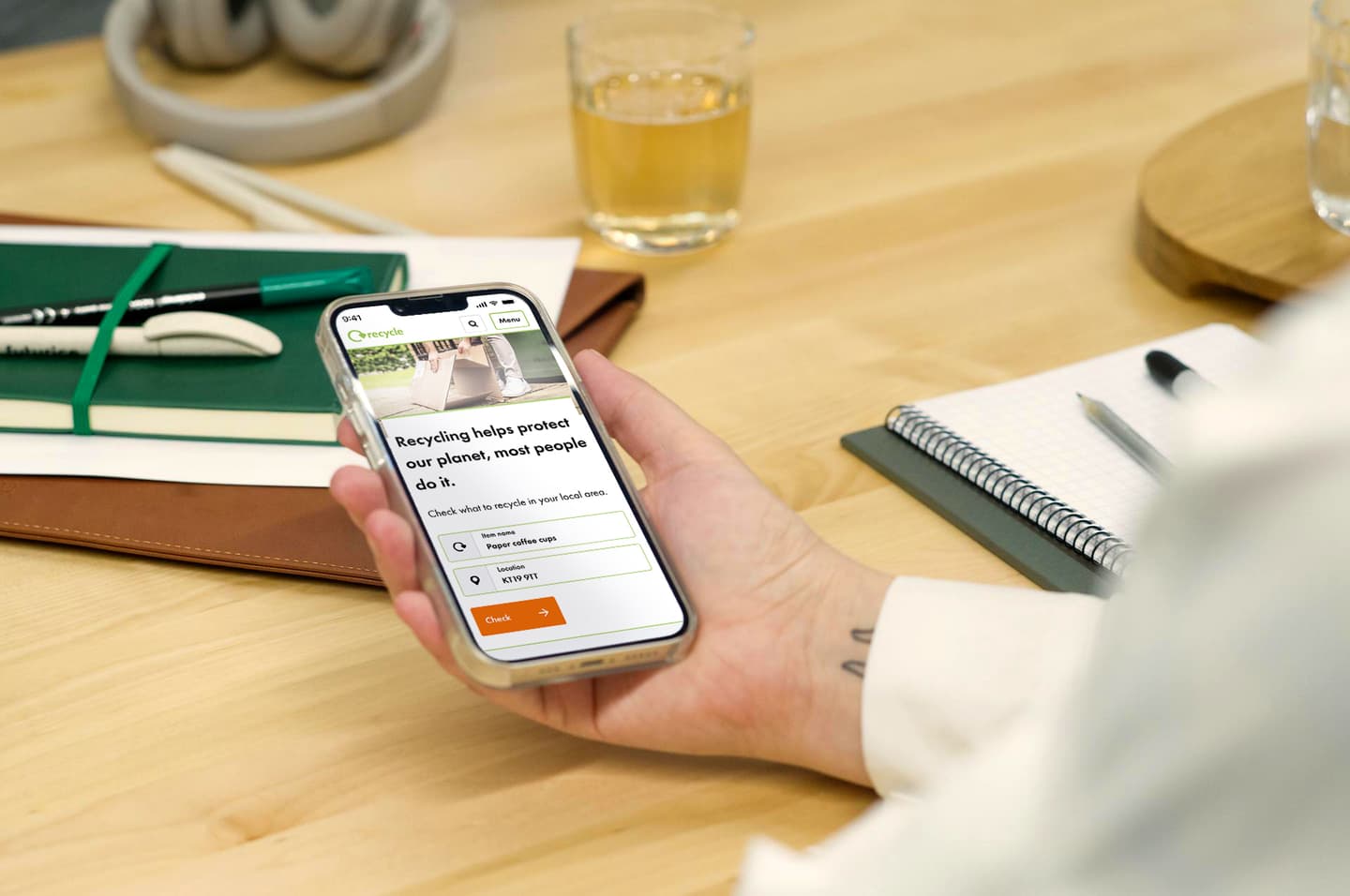 Technologies used
Contentful
Vercel cloud platform
Next.js
Algolia
The Recycle Now website plays a pivotal role in getting consumers to adopt environmentally friendly patterns of behavior. But problems with the legacy version of the website meant it wasn't as user-friendly as it needed to be.
We started out by carrying out interviews and research with carefully recruited WRAP website users to reflect WRAP's wide and diverse user base to explore our design thinking with us. These discussions helped us gain a much better understanding of context: namely where, when and why users came to the site. This was a powerful insight in terms of identifying the challenges users had using the existing website and clarifying what they would ideally like from the new website.
This discovery process also helped us to identify flaws in the existing website's content management system (CMS) that were having two knock-on effects. Firstly, a thicket of conflicting styles made it difficult for WRAP editors and campaign managers to produce and refresh content. Secondly, the user journey had become over-complicated. Even basic information was difficult to access, such as what consumers could recycle and where.
With no fixed templates to anchor the website, each new set of changes made the layout less user-friendly. This was clearly a problem for an issue-focused charity like WRAP, limiting its ability to share a clear and actionable vision with its audience.
Our solution was to leverage existing datasets and APIs to streamline the user journey, making it much simpler for users to find out not only how recycling works in their local area but to help them improve their knowledge about recycling and why it's important. A key part of the brief was to replace WRAP's legacy CMS system. To do this, we opted for a headless CMS solution from Contentful.
In practical terms, a headless content management system provides greater flexibility when updating content – for example, making it easier to produce different presentations for the same content. It is also faster and helps futureproof websites by avoiding deterioration in capabilities. In a constantly evolving sector such as sustainability, embracing headless seemed like a sure-fire winner for WRAP. We chose Contentful as it offers end-to-end support which was an important consideration for WRAP. The platform also integrates well with Vercel, the cloud platform that we believed was the best match for WRAP's website.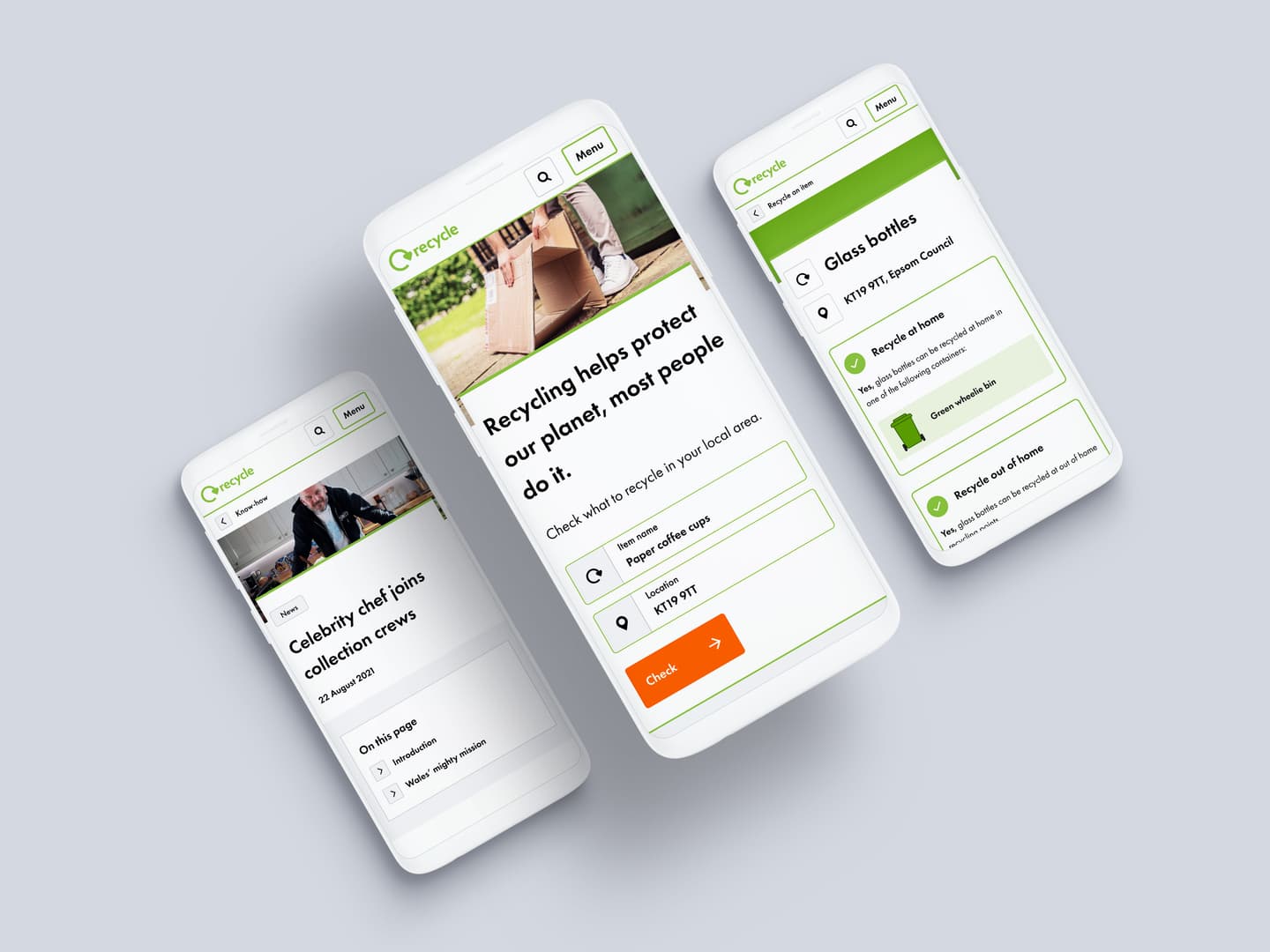 As part of the shift to Contentful, we migrated data and content from the old Recycle Now website to the new one. This was a complex task because it required us to create an additional wrapper around Contentful's migration tool to help manage and synchronize all the changes we wanted to make. During the process, we also rebuilt the website's entire navigation – including new URLs and a new structure. At the same time, we used data to design a more intuitive user experience, focusing our energies on creating a look and feel that might inspire action.
From a design point of view, we worked closely with the WRAP team to consolidate their visual identity into a coherent and contemporary aesthetic across different touch points, aligning with other campaigns to ensure a more joined up brand experience. WRAP's desire for the new Recycle Now website to be truly accessible were well-aligned with Futurice's mission to create inclusive services. This shared ambition enabled us to ensure that the site's design made it appropriate to the broadest range of community segments. For example, it was a challenge to incorporate the full range of WRAP brand colors in ways that would meet standard accessibility color contrast criteria, but we managed it.
In the process, we delivered an easy-to-use site for WRAP's content team. We designed fixed templates for different pages so that the website stayed true to the new redesign and brand guidelines rather than changing all the time. In addition, we made sure to give WRAP content editors a way to include meaningful alt text for images. The use of templates also has a cost benefit, because limiting the range and complexity of customized web pages reduces recourse to third party agencies.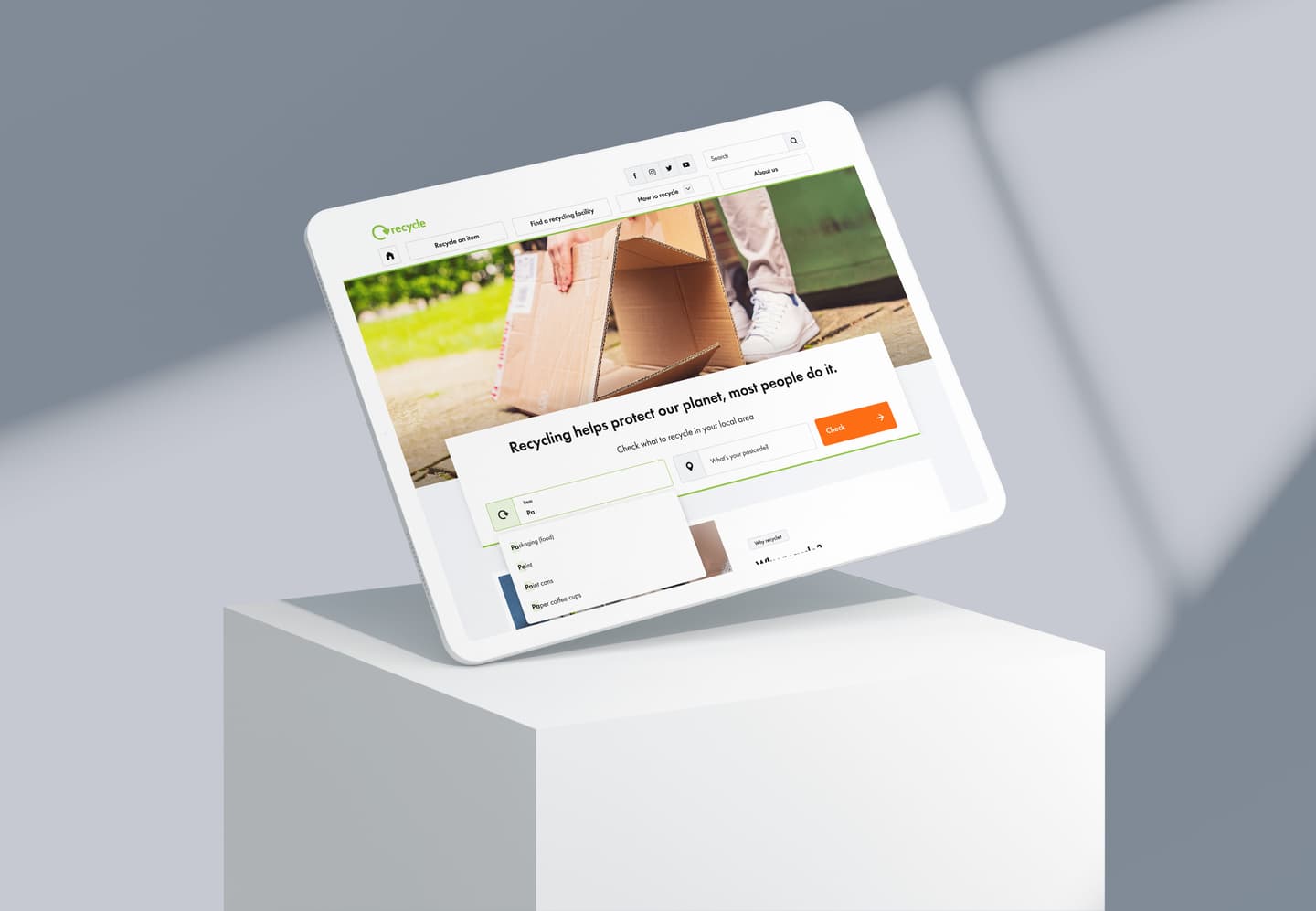 We also captured user insights, carried out user testing and built a solution for a wide range of visitors to the website, following accessibility best practices. This included working out a taxonomy for the contents of the site, by grouping, color coding and signposting different items for recycling to show whether an item was recyclable non-recyclable or even hazardous. Our designs accommodated a dual language approach, meaning the site could be built in English and as a sister site in Welsh.
A key step ahead of launching the new website involved helping WRAP staff members get used to working on the new platform. As part of this approach, we put together a tailored user manual on how to use Contentful effectively, and walked the team through uploading content, making changes and so on.
Simpler, more consistent UX and navigation

Site has good levels of accessibility – AA across the board with AAA in places

Flexible, responsive editing capabilities for the content team

Game-changing deployment of future-proof tech
Recycling rates are falling in England and organizations like WRAP have a key responsibility to address this worrying trend. Creating a coherent digital presence is fundamental to educating and motivating households.
Keeping audiences engaged with the subject of recycling and staying on top of local area changes in recycling policy means WRAP's content team needs to constantly refresh and update the website. Using a headless CMS platform gives the WRAP team flexibility and control, allowing for a more responsive site.
Effective recycling strategy is about more than just encouraging action. It also involves understanding the process. For example, 84% of UK households are unintentionally contaminating their recycling bins. The new Recycle Now website helps consumers grasp how to combat contamination.
Get in touch
Wherever you are on your digital journey, our services and experts can help you along the way. Let's get talking!