Back to Blog
Building a more digital healthcare sector with the Connected Health Kit
Healthcare has a complicated relationship with change. The field is constantly evolving through scientific innovation and advances in medical technology, but many existing practices, processes, and workflows tend to change at a sluggish pace. The newly launched Connected Health Kit by Futurice is designed to help healthcare organizations adopt data-enabled digital services and solutions.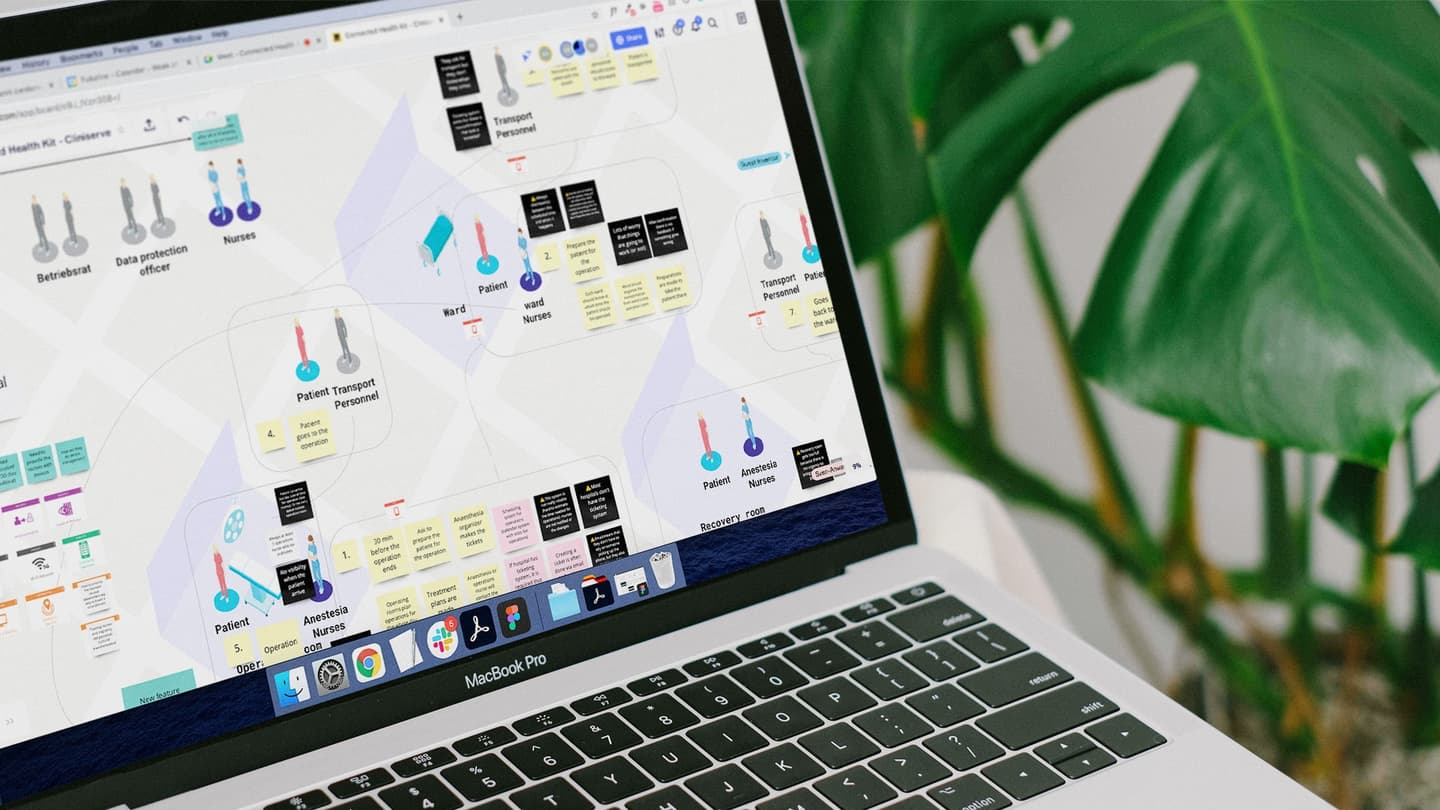 The reasons for the slow pace of change are clear – and understandable. Considering how even a relatively small change can have a far-reaching impact on the health and wellbeing of countless people, it's easy to default to if it ain't broke, don't fix it – just to be on the safe side. This mindset hardly encourages the healthcare domain to proactively scrutinize its established practices, let alone try to improve them.
Even so, the sector is coming to terms with the fact that the future of healthcare is digital, connected, and fueled by data. In an effort to help the industry get there, Futurice has created the Connected Health Kit, a free-to-use set of tools to support the creation and adoption of data-enabled digital services and solutions.
In this interview, Design Director Gianni Cardone explains the core idea of the kit and the philosophy behind its creation.
So, Gianni, what exactly is the Connected Health Kit?
The Connected Health Kit is a toolkit designed for the healthcare domain, with two specific purposes in mind. First of all, to analyze workflows – including the most complex ones – and secondly, to facilitate the co-creation of new, data-enabled solutions and services for a wide variety of medical environments, processes and use cases.
And how would you describe it in layman's terms?
Simply put, you could think of the kit as a collaborative tool. It helps identify opportunity areas with room for improvement, and create digital service concepts that utilize data and digital interfaces to simplify workflows and build better customer journeys.
Right, you don't have to be a healthcare professional to acknowledge that sounds like a problem worth solving. So how does the kit approach this challenge?
The approach of the kit is three-fold. The first part has to do with reaching mutual understanding and breaking down silos. In a healthcare ecosystem, there are always several different viewpoints and disciplines at play. This is in many ways a valuable characteristic, but the situation is also ripe with potential for clashes and miscommunication, which in turn can disrupt the workflow. The hands-on nature of the Connected Health Kit aims to bring down walls between people with different backgrounds – like doctors, nurses, lab technicians and IT specialists – as they analyze and visualize current processes.
The second part is all about making things tangible. As we all know, the world of healthcare is complex and includes various different participants and workflows: Consider all the people involved with operating room or emergency room procedures, or patient logistics during a hospital visit. Rearranging all the involved components with the help of the Connected Health Kit enables teams to detect gaps in the healthcare journey, and make concepts more tangible by physically demonstrating those ideas.
And finally, the kit's purpose is to make the complex simple. Anyone in the healthcare sector can use it to make a difference in their individual setup and use case – you don't need to be fully immersed in the world of health tech or digital health. Knowing your own part is enough to get started, after that it's simply about involving the right people adjacent to your role.
How does it all look in practice?
We've designed two different varieties of the kit in order to support as many teams and working setups as possible. First, there's an all-digital one designed for remote and distributed teams – this one's complete and ready for anyone to use right now. But in addition to that, we're also developing a physical version for teams based in the same location. The basic idea between the two versions is exactly the same.
The Connected Health Kit in use
The foundation of the kit is the map, something that depicts a physical space, like the emergency room of a hospital. When you use a map that reflects the same physical space you work in, you're already making things tangible and concrete. In the digital version, you set up the map in the collaboration tool of your choice, like Miro, and in the physical version, it's printed out for everyone to gather around.
After that you'll break out the tokens – these are representations of patients, medical staff, devices and other assets that move around the environment. In the digital version these are illustrations, and the physical version will come with files you can use to have physical pieces 3D printed.
That actually sounds kind of similar to setting up a tabletop game.
Yes, and using the kit is definitely a playful, easy-going experience! But make no mistake – at its core, it is a full-fledged service creation tool designed with serious professional use in mind.
All right, let's assume we now have all the bits and pieces in place. What happens after the initial setup?
When you have everything in place, it's time to dive in and focus on specific scenarios, workflows and challenges in your use case. This can mean unwanted gaps, bottlenecks or delays in the process, a suboptimal floor plan, or problems related to the flow of data between different points.
To facilitate this, we have the third and final major component of the kit, a set of cards that represent various actions. They are also meant to challenge the users' thinking, and make them take into account different aspects they might not have considered otherwise. All this serves to help users analyze the dynamics, connections and relationships between different elements and entities.
So the cards set the whole thing in motion and also mix things up with some unexpected questions. Now, who exactly is the Connected Health Kit intended for?
The beautiful part about the kit is that it is designed for anyone in the healthcare sector to use and make a difference in their context and use case. That said, there are a couple of specific groups we had in mind when creating it.
First and foremost, business and service owners in the healthcare industry – from product managers to executives responsible for digital initiatives and software development – as well as healthcare experts who lead the digital transformation process in their domain are the primary stakeholders who will benefit from the kit.
Additionally, given its goal to make complex processes more understandable and build a shared view of the challenges at hand, it's a great tool for small, cross-functional teams – ones that involve healthcare professionals as well as tech, design, business and/or data experts – to approach complex problems in a group without losing the wealth that comes from their different perspectives.
The third group that we are certain will find use for the kit is managers in healthcare, everything from hospitals to laboratories and pharmaceutical companies. It helps them form a clear overview of the problems in their existing workflows, prioritize actions, onboard various stakeholders, and manage the quality assurance process in the workflows being analyzed.
Why is the kit relevant, and why right now?
In many industries, digital transformation has already been going on for years, and it has resulted in new digital services and holistic offerings being launched, and a new focus on the quality of the customer experience.
Healthcare, on the other hand, is a really complex field. The offering along the patient journey can be severely fragmented and disconnected, and digitalization is lagging behind in many aspects. We can often see that when we interact with healthcare providers as private citizens.
But things are changing here, too. Patients' expectations as well as new regulations and reimbursement models are driving the adoption of a more connected and digital healthcare offering. But this transition will also need a cultural change. And that's exactly why it is essential to have access to the right tools and adopt ecosystem thinking to develop new solutions and connected services. The Connected Health Kit is a tool that aims to help the entire sector through this transition. It brings together different experts to collaborate and develop connected solutions for tomorrow's digital medical field.
Before we wrap up, could you tell a bit more about how the kit was developed?
Our desk research and past projects within the health domain, have shown us how difficult it is to map and document complex relationships, journeys and workflows in the medical field. Various factors, roles, data input, and regulations have a substantially larger impact on the relationships between different players in the healthcare sector than what you'll see in other industries, and this made it very clear for us that building a shared overview and simplifying the complex is essential to creating a common ground for the ideation of new services.
Based on this need, we came up with the idea of creating a kit that would help with the analysis and co-creation of connected digital services for healthcare workflows. It was not an easy process. We built a number of draft versions of the kit, and along the way we interviewed dozens of experts to validate the methodology itself, as well as the plausibility of the solutions.
And to make things even trickier, this process took place entirely in a remote setup due to the Covid-19 pandemic. The situation is challenging for any kind of co-creation work to begin with, and even more so when designing a complex toolkit.
Nevertheless, we managed to finalize and launch the kit for public use in under four months. Given the circumstances, it was a particularly easy choice for us to start from the digital version of the Connected Health Kit to accommodate distributed teams in remote working sessions. But given the similarity of the two versions, adapting the assets for the physical version for in-person workshop use will be a relatively quick process, too.
Read more about the Connected Health Kit and download the assets here. You can also learn more about Futurice's point of view on the healthcare sector on our dedicated health industry page.
Pekka Lehtinen

Head of Content