Back to Blog
FutuStories - Making an impact both at work and after – an interview with Eloise Smith-Foster
Lead service designer Eloise Smith-Foster contributes towards a better future both in her professional role and as an environmental activist outside of work. Having experienced Futurice's empowering culture first-hand, she sees the company as a great platform for addressing some of the largest systemic issues of our time.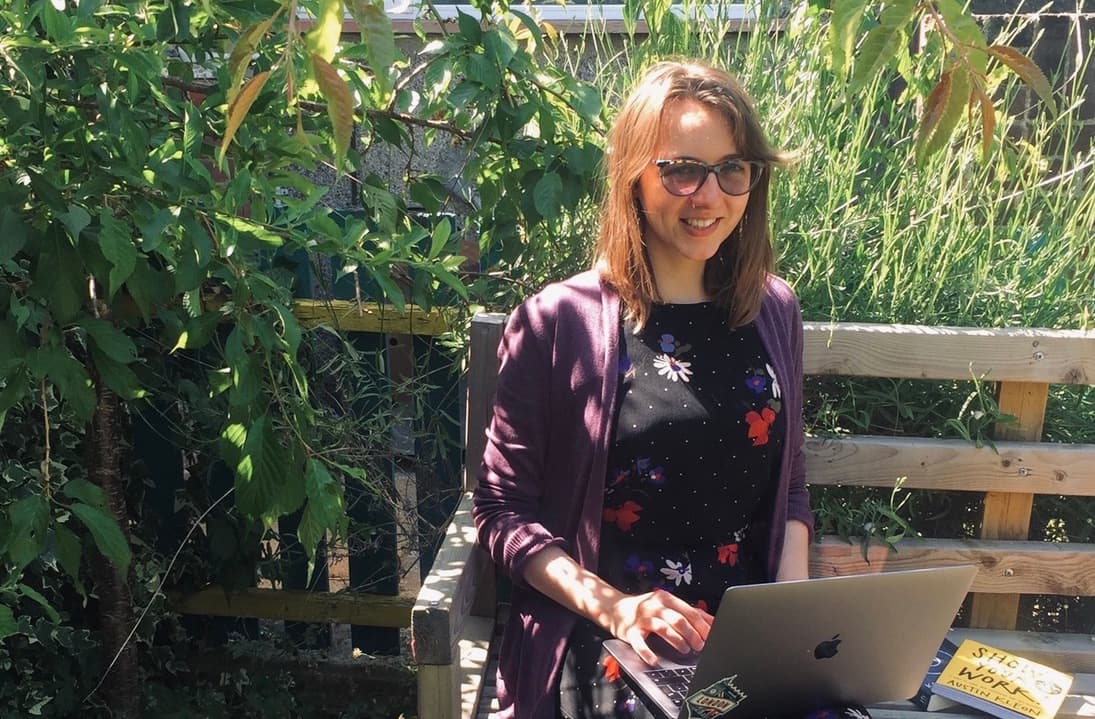 How long have you been working at Futurice?
Around 1 year and 9 months – it's flown by!
What did you do before?
I was a service designer in another consultancy in London. Before that I was working as a service designer and manager at the Service Design Network. I studied a masters of European Design across the UK, Germany and Finland.
What's your role at Futurice?
I'm a lead service designer working very hands-on in projects, undertaking research and insight analysis with customers and primary users of a service, aiming to gain insights from their point of view and represent their voice and perspective throughout the project. I combine that with the needs of the business and aim to consider other needs such as equity and sustainability using the Futurice toolkit and various service design tools and methods.
What makes Futurice different from other companies?
Over the past months I have learned that Futurice really lives by its values such as care, trust and transparency. They seem like values a lot of companies could have but I have really seen Futurice listen very carefully to me and other employees and really take action on any feedback given. I really feel heard as an employee at Futurice, you see things change and feel part of that change. It's very empowering to work in a company like that. There is also a good connection with the wider European branches so you can have an international mindset and connect to deep areas of knowledge whilst bringing in other cultural perspectives to your work. And we don't take ourselves too seriously either!
What do you enjoy most about your work?
I enjoy creating a space to really listen to people and learn what moves them, what motivates them, what they need and what their values are. It's very humbling when people trust you to share stories about their life and collaborate with you in a very patricipatory manner. I treat this customer data and insight with a lot of care and respect and use it wisely so that I am a good conduit for their voice and needs and it doesn't get lost in projects.
I am really excited about exploring what design can do to address more systemic challenges like sustainability or social and environmental challenges – some of the bigger questions of our time. We have a lot of people across Europe working in future foresight or circular economy projects and there is a lot of learning and information sharing going on. I believe as a whole company we can have a significant impact in this time of transition to become more equitable and greener, something that a lot of companies are aiming for. I am looking at what we can do as a business under that umbrella.
What's your favourite quote?
This quote really resonates with me. It's a conclusion I have come to through my environmental activism work that I do outside of work and the future foresight work that I do in design. People often imagine the future away and in front of them but we are co-designing the future everyday, in every moment through the way we relate to each other, the things we do now and bringing something else to life. It's easy to get caught up in the possibilities of the future and not focus on being present and what's happening in the present. This is a big piece in systems thinking that the way you are and the values you embody also influence the work you do, your relationships and your impact on the world.
What inspires you?
People I have met in my futures work and my activism who are working together to create really radical visions of how humans can be in the world and how they can co-exist with our more than human friends and other beings on the planet. I have been humbled and inspired when people have shared these very intimate progressive imaginings of what the world can be and to know in the face of many challenges they are still holding on to that and working towards that even if it may not come to pass in their lifetime or even at all.
What happens after work?
During the pandemic it was very quiet after work. I am more of a homebod than I used to be. I enjoy quiet dinners with my partner, nice walks and appreciating nature. I have recently gotten into climbing. Once a week I go to a climbing wall in London which helps me focus and get out of my head for a bit.
The other things I do after work are environmental activism and other forms of activism which have involved a few different roles from supporting Extinction Rebellion social media to being in an Extinction Rebellion drummers samba band. It's very therapeutic to go and bang a drum. I go to regular rehearsals and sometimes I support protests or actions by going and doing some drumming to keep people entertained. I have also been trained in nonviolent de-escalation. I help de-escalate areas of discord or friction during protests.
What would you recommend to people who want to do work like you?
I would recommend looking into the newer and emergent fields on the edges of design like systems thinking, ecological design or trauma informed design because those are what I am looking to expand and enrich my service design practice and build better approaches than exists in the field conventionally. I would recommend learning about people, sociology and psychology. So much of this work is about relating to people, understanding different points of view or learning to emphasise with different points of view and translating that into something strategic. I would also recommend looking at equity and accessibility and what that means in design. I see a huge need in organisations to develop their capabilities and practices around these topics.
---
*Interested in reading more stories about us and our people? At Futurice, we celebrate diversity and cherish everyone's unique journey. Check out our Welcome Hope Page and get inspired by more journeys shaping our culture. If you would like to read more stories and get to know our people, our sites and the community better, check out the global version of our FutuStories Booklet
Pia Hämäri

Marketing Lead, Finland & Sweden