Back to Blog
FutuStories - One Day with Software & Business Developer Antti
Antti is a Software Developer who is big on community, both inside and outside work. He appreciates a challenge, whether that's scaling a climbing wall or figuring out a new project, and he's always ready for a good (bad) joke.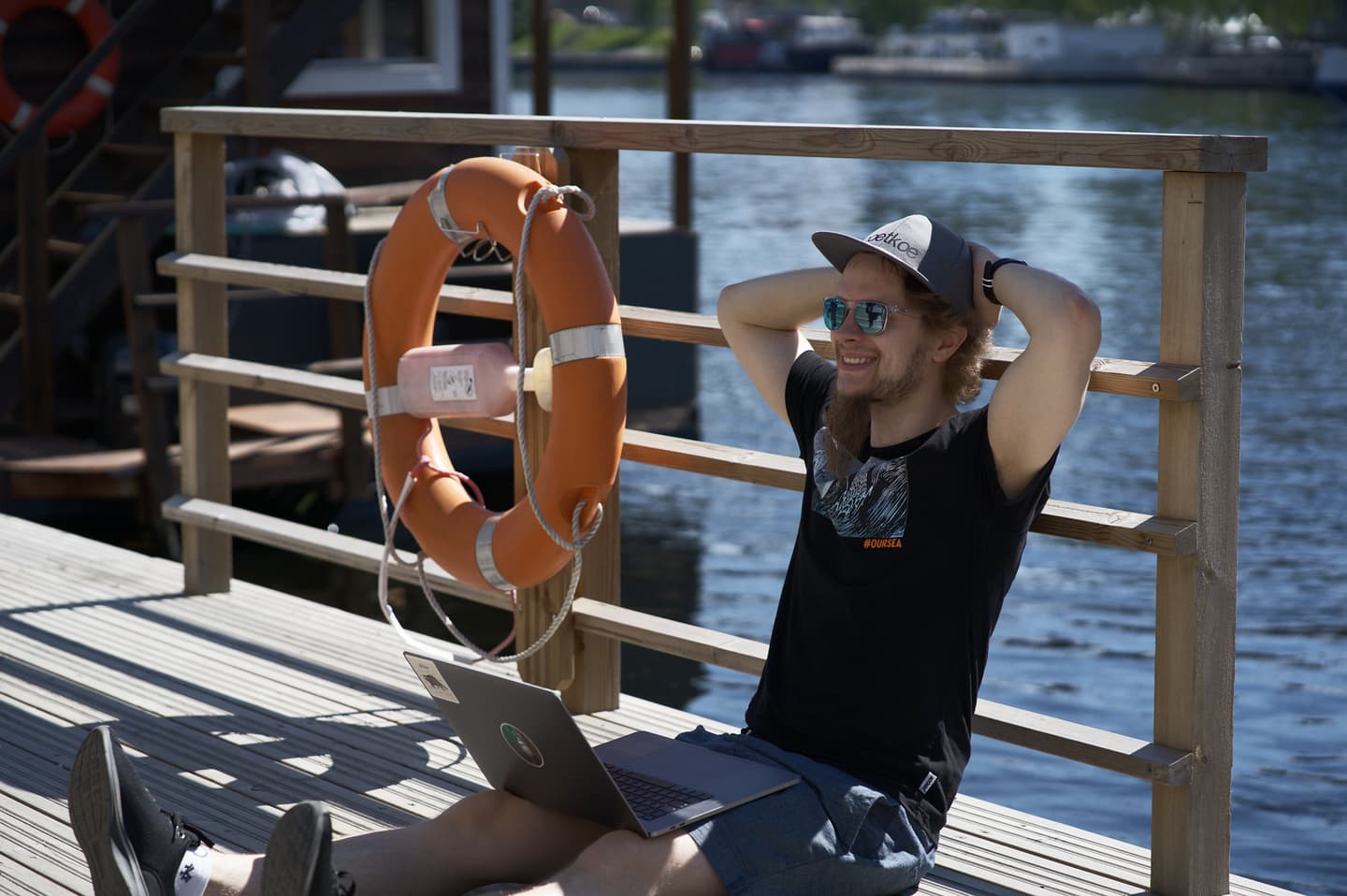 What does your role involve at Futurice?
I'm a tech lead, which means I primarily work with a single client account, keeping on top of multiple ongoing projects. By keeping the big picture clear in my head, I guard the brain space of other developers so they can focus on their work. Alongside communicating with the client and my team, I spend the majority of my working hours doing development work, as well as figuring out what needs to happen in terms of future technical development. Overall it's a tech role, but there's a lot of communication involved too!
What do you enjoy most about your work?
Every day I do something new that I don't know how to do when I start. It's rewarding figuring things out – my job isn't to know things, it's to not get overwhelmed when faced with things I don't know! I also really like that we don't just build websites and hand them over for someone else to run, we have long-term ownership of our work and can see how users react to it. And that's just the work side – it's just as important that I have a great connection with my colleagues and clients and can be who I really am rather than having a work persona. It's fun to work with people you genuinely enjoy spending time with.
What inspires you?
This is a tough question! In terms of tech and my day-to-day work, the transition to cloud computing has inspired me a lot. I like the fact that as an industry we're working with new things in a new way. In more general terms I'm inspired by humour. I've been binge watching the US version of The Office and it's fun when daily interactions involve inside jokes, both good and bad! I'm also inspired by people who are passionate about something – when someone is enthusiastic it's contagious, even if the thing they're into isn't familiar to me. The Finnish scenery and weather inspires me too – it's so nice to go outside and enjoy the fresh air whether it's snowing in the Winter or shining in the Summer.
How do you get involved in your local community?
Previously I was active in the local developer meet-up scene, but that went on hold during COVID and hasn't started again yet. At work we have a great active community, with lots of communication happening outside of working hours and work topics. Several former colleagues are still active as well. This was especially valuable during the most isolated times of COVID and full remote working, when e.g. virtual afterworks were arranged to bring people together. One community that's especially valuable to me is Koodiklinikka (Code Clinic) – an open Finnish Slack space for anyone working with coding or development in general, where you can see how other people are doing, catch up with professional content and get help with problems.
What's the best thing about Tampere?
I really enjoy rock climbing and go climbing regularly with friends and colleagues in Tampere. My brother and sister both climb too, so we share videos and pictures of our achievements, which is fun. Tampere is located between two large lakes and there are lots of opportunities for spending time outside and enjoying the views – I recommend that to everyone! Tampere is also a very stable and safe place to live, which is something I try not to take for granted because there are many places in the world that aren't.
---
Interested in reading more stories about us and our people? At Futurice, we celebrate diversity and cherish everyone's unique journey. Check out our Welcome Home page and get inspired by more journeys shaping our culture. If you would like to read more stories and get to know our people, our sites and the community better, check out the global version of our FutuStories Booklet.
Sanni Tiivola-Jurvainen

Brand Manager