Back to Blog
Coding a healthier future
Read Katri's experiences on what it is like to work on healthcare sector digitalization projects and what makes the work meaningful!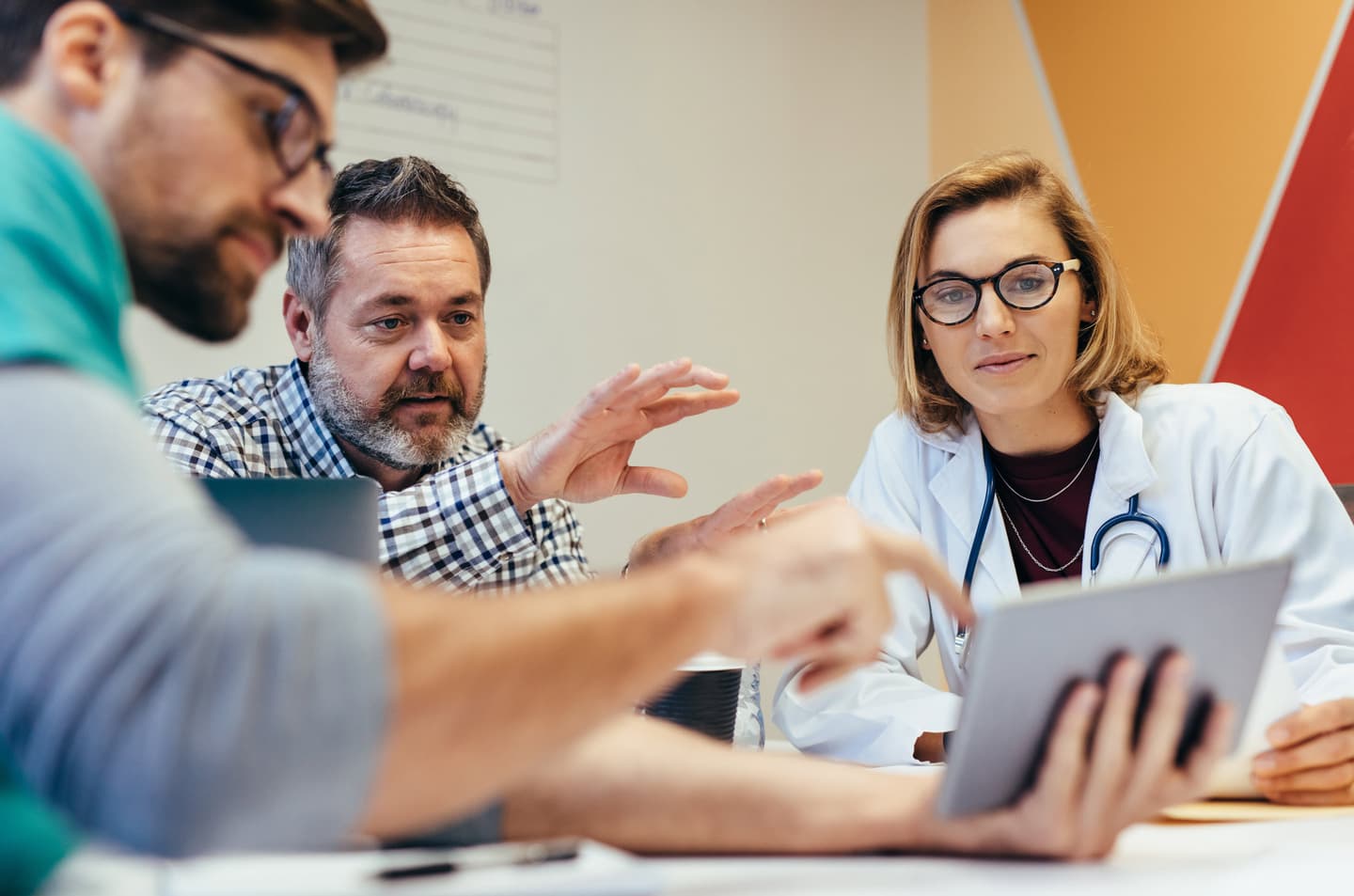 Hello & nice to meet you, fellow reader. I am Senior Software Developer Katri Selonen. I've worked at Futurice for six years and specialized in the healthcare sector for a personal reason: to make a real impact in an important area. Every day I learn something new. Now, I shed light on what my work is all about.
I believe digitalization is the key to creating the kind of impact society needs, so I decided to orient myself in the healthcare sector two and a half years ago. Currently, I work within the clients' teams with a focus on the front-end coding of an appointment system. The project also includes improving contracting services and performing user analysis. As the development processes in the healthcare sector become increasingly agile, we proceed by listening to the clients' and patients' needs and iterating solutions. My current team is multidisciplinary and consists of Futuriceans, the client's experts and third-party employees. Despite working remotely, it's still social. I think we've also managed to maintain a good collective spirit during the pandemic. Of course, getting new people involved is now harder, and I miss the company of my fellow workers.
My work in the healthcare sector has covered many other areas, like developing programming and operative tools for clients and helping them work more efficiently, thus improving customer experience. Overall, I think the pandemic has accelerated the healthcare sector's need to create better solutions and helped it understand the value of our work. There is a lot of enthusiasm and no ready answers, making the work a journey of discovery. I think the best things about my current role are the chance to do diverse projects with diverse people, our team spirit and, of course, the nice people I get to meet and work with.
I am also happy to continue learning new things every day, especially about healthcare processes and customer journeys on a tangible UX level. My personal goal is to develop my in-depth experience even further and therefore make a bigger impact in the future.
Finding a healthy balance
Software development in the healthcare sector is all about balance. For example, you need to make things easy to use, but also secure. Often people can be frustrated when they feel strict regulations are standing in the way of progress, but the truth is you can do new things – they just need to be done right. There are no shortcuts. Finding a balance between financial profitability and peoples' best interest is vital and here I think the public and private sectors still have a lot to learn from each other. Despite the fact that the healthcare sector touches all of our lives, it uses a lot of special terminology and regulations, so we need to find a balanced way to communicate between the clients and patients. And, as our work can get hectic, you need to balance your work and leisure time. Personally, I like to bake, play board and console games, do yoga and swim. At Futurice, your personal time is always appreciated.
I think working as a software developer in the healthcare sector is suitable for a diligent person because of the regulations and diverse needs. The ability to see things from other peoples' perspectives is also important. In the end, we code for the people and a healthier future for them. Team working skills are crucial, too, as we are often developing many different and often interlinked complex systems. An important thing to keep in mind is that working in the healthcare sector is based on building your clients' trust, so it may take time to get involved with more sensitive and regulated parts of the systems, thus impacting the system entities happens only in the longer projects.
Words of encouragement
Generally, I want to encourage new Futurice employees to be open-minded and interested in what's happening around them. Experience new and different things, and discover what you are into – it's a journey. Futurice has many clients in many industries, and there will always be something that suits you. There are both short and long projects available, and you learn not only through education and training but by doing, too.
At Futurice, matching the right people with the right projects is highly valued, and what matters the most is your attitude. Welcome home!
Interested to join us and share your unique journey? Check out open positions.
Katri Selonen

Senior Software Developer