Back to Blog
Ecosystem assessment – unlocking the hidden value of health-related services
Under pressure due to heavy regulation and a rapidly changing market landscape, the health industry has only two options to choose from: evolve or fall behind. Through its healthcare ecosystem assessment service, Futurice helps organisations identify how their existing digital products and services fit together and understand their opportunities as part of a broader healthcare ecosystem.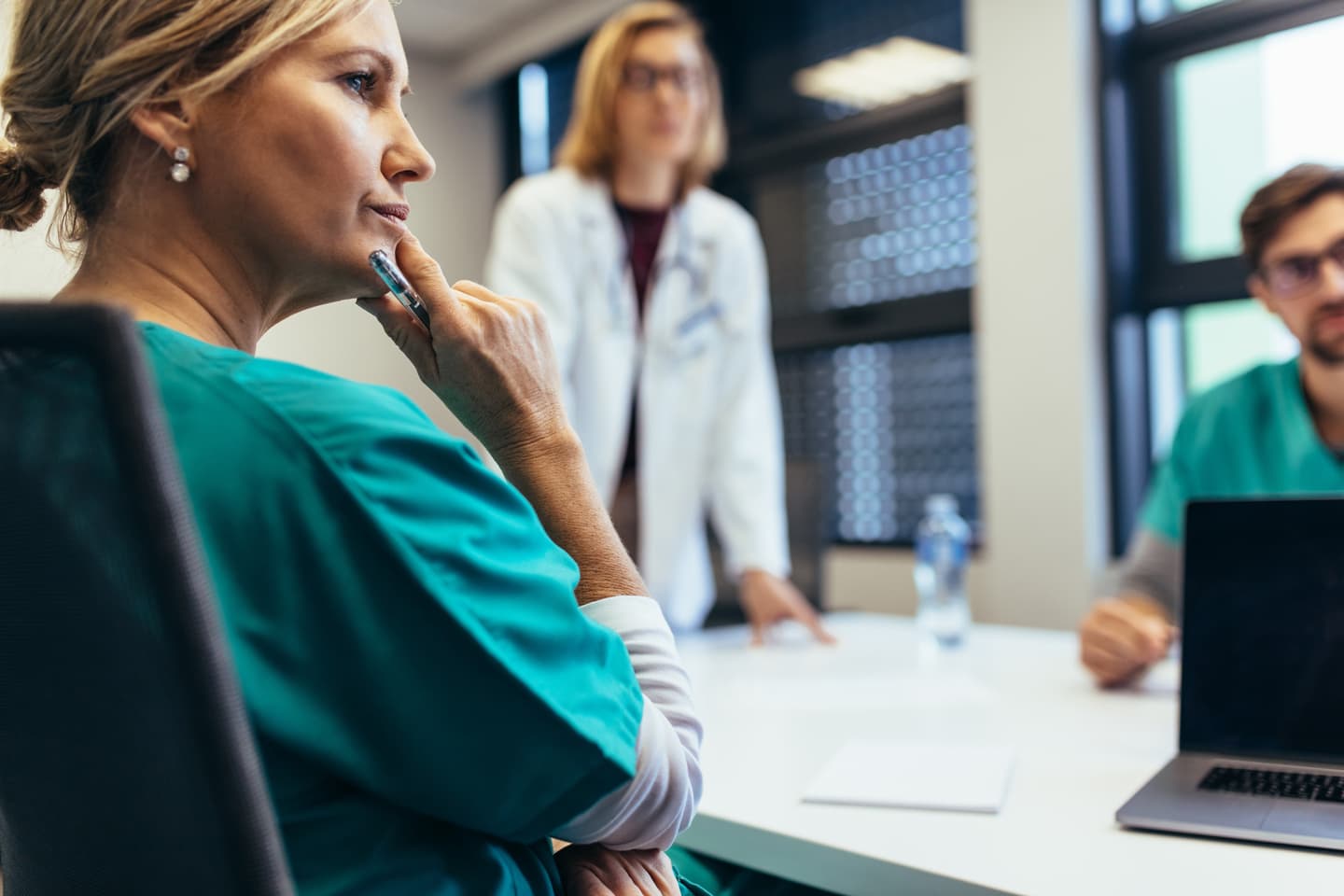 Healthcare is a heavily regulated industry, largely due to the importance of patient and staff safety. New healthcare products and services tend to focus on one problem at a time, but advances in digital health technology are disrupting this traditional model by offering more integrated solutions. With industry boundaries becoming blurred as new digital players enter the market, healthcare companies must find a way to adapt if they want to remain competitive. This means facing challenges like digital innovation and service integration head-on while continuing to fulfil regulatory and ethical requirements.
Changes in the healthcare industry landscape can spell trouble for the quality of patient care. According to a recent OECD study, almost one third (30%) of patients in both Germany and Finland report unmet needs at some point in their healthcare journey, with healthcare companies also facing pressure to compete with disruptive market entrants and meet their financial targets. Forming partnerships and adopting new digital business models can provide solutions to these challenges by optimising processes and maximising the value of patient offerings while also creating new revenue streams, generating growth opportunities and reducing costs.
A new perspective: How can ecosystems help healthcare companies?
Regardless of the high quality of their devices and services, many traditional healthcare companies still struggle to digitalise their offerings. A survey by Simon-Kucher suggests that a staggering 59% of health companies don't have a digital strategy in place to begin with – and of those who do, 44% do not have a dedicated digital team responsible for defining it. 76% of the companies surveyed also report facing difficulties with monetising their digital solutions.
Adopting an effective digital strategy can open up opportunities for companies to enhance their offerings through complementary digital services. Of course, innovation creates both costs and risks, and this is where synergistic partnerships with other providers come in – as well as reducing the impact of these costs and risks, it can also increase the speed of innovation.
Read more about digital innovation in the health sector
A health industry ecosystem approach – where a network of companies partner up to offer a connected suite of solutions and services – has many benefits to offer in healthcare. With digital healthcare solutions becoming increasingly important, the connected future of the healthcare industry will be driven by interoperable data and open, secure platforms. Patients are placed at the centre of innovation, while aggregated data enhances engagement in the sector and creates connections between patients, caregivers and providers.
Leveraging the potential of a healthcare ecosystem requires a shift in thinking. A healthy ecosystem involves multiple parties that all benefit each other with their actions – in this case, patients, digital healthcare products and services, providers and caregivers.
Modern consumers expect seamless, integrated experiences across devices and systems. This means that healthcare companies must work together – both with each other and with digital service providers – to ensure their patients can receive intelligent services that are empowered by data and integrated with other services. A strong business model, well-structured data and a resilient IT architecture are necessary to achieve this – but once they're put together, they will unlock hidden value and create benefits for all stakeholders in the healthcare ecosystem.
Health industry ecosystem assessment – the Futurice approach
To help the health industry partner up, we have come up with a healthcare ecosystem assessment offering. Its purpose is to analyse the potential of a healthcare company's service portfolio and help them address key industry challenges by innovating and optimising their offering for use within an ecosystem. This, in turn, will allow them to maximise the value of their assets. The first step in this process is to check whether their current portfolio is fit for purpose in three key areas:
User centricity and value creation: A consistent, holistic experience across multiple touchpoints in the user's journey requires a human-centred approach. An ecosystem strategy optimises value creation for users and other stakeholders and enables new business opportunities.
Interoperability and data utilisation: Interoperability allows available data and solutions to be accessed seamlessly throughout the user journey. The healthcare ecosystem uses data to learn user patterns and predict their needs, and also reveals underlying trends and business opportunities. Data collection can be improved by sharing knowledge within the ecosystem.
Modularity and scalability: An ecosystem should comprise standardised elements that can be easily assembled, making the technology behind it accessible and scalable.
How does ecosystem assessment help healthcare companies?
Ecosystem assessment enables the creation of connected solutions, a valuable first step towards a fully mature ecosystem landscape. Taking this step presents multiple benefits:
Maximising the value of assets by identifying opportunities to address challenges and needs and connecting existing services
Growing revenue by identifying new income streams from the existing user journey
Optimising services by making them cooperative and reducing costs through increased operational efficiency
Clarifying the provider's digitalisation strategy by prioritising the introduction of new connected services into their portfolio
Increasing innovation speed and sharing risk by identifying opportunities for potential partnerships
To ensure that the results of the healthcare ecosystem assessment maximise value for our clients, we address their challenges from five key perspectives:
Users and their preferences: providing value and improving the user experience for all stakeholders
Business model and needs: creating growth opportunities and positive outcomes for the various actors in the ecosystem
IT infrastructure and data: working with a scalable, flexible IT infrastructure and an integrated data landscape
Data privacy and compliance: working closely with our regulatory compliance partner
Culture and ways of working: connecting various departments and promoting transparency, collaboration and a coordinated effort towards customer centricity and ecosystem thinking
Building towards a mature healthcare ecosystem
This approach helps our clients build future-proof, sustainable platforms and healthcare ecosystems that benefit individuals, organisations and the environment while ensuring technical feasibility and compliance with relevant regulations.
Having moved from isolated digital products and services to strategically connected solutions through an ecosystem assessment, the goal is to progress towards a mature and collaborative health sector landscape. Ultimately, strategic partnerships lead to intelligent services and ecosystems that address rising customer needs, use the full value of data created and leverage network effects to create exponential value at multiple points in user and stakeholder journeys.
Get in touch
To learn more and unlock the opportunities that an ecosystem approach can offer for your organisation, please get in touch and ask about our healthcare ecosystem assessment offering!
Anastasia TolmatschInnovation & Business Development Manager Tel. +49 151 2825 8046 anastasia.tolmatsch@futurice.com
Anastasia Tolmatsch

Innovation & Business Development Manager, Germany

Laura Araujo

Lead UX Designer
Recommended case studies from the healthcare sector