Back to Blog
Helping the health sector evolve with digital innovation tools
The health industry has its fair share of organizational and process-related challenges. Service design is already seeing widespread use in some areas of the health sector, but it can do much more than what we've seen so far. Based on the first impressions with our clients, the Connected Health Kit by Futurice has lots of potential for creating business value as well as helping organizations – from hospitals and labs to pharma and medtech companies – transform the way they work.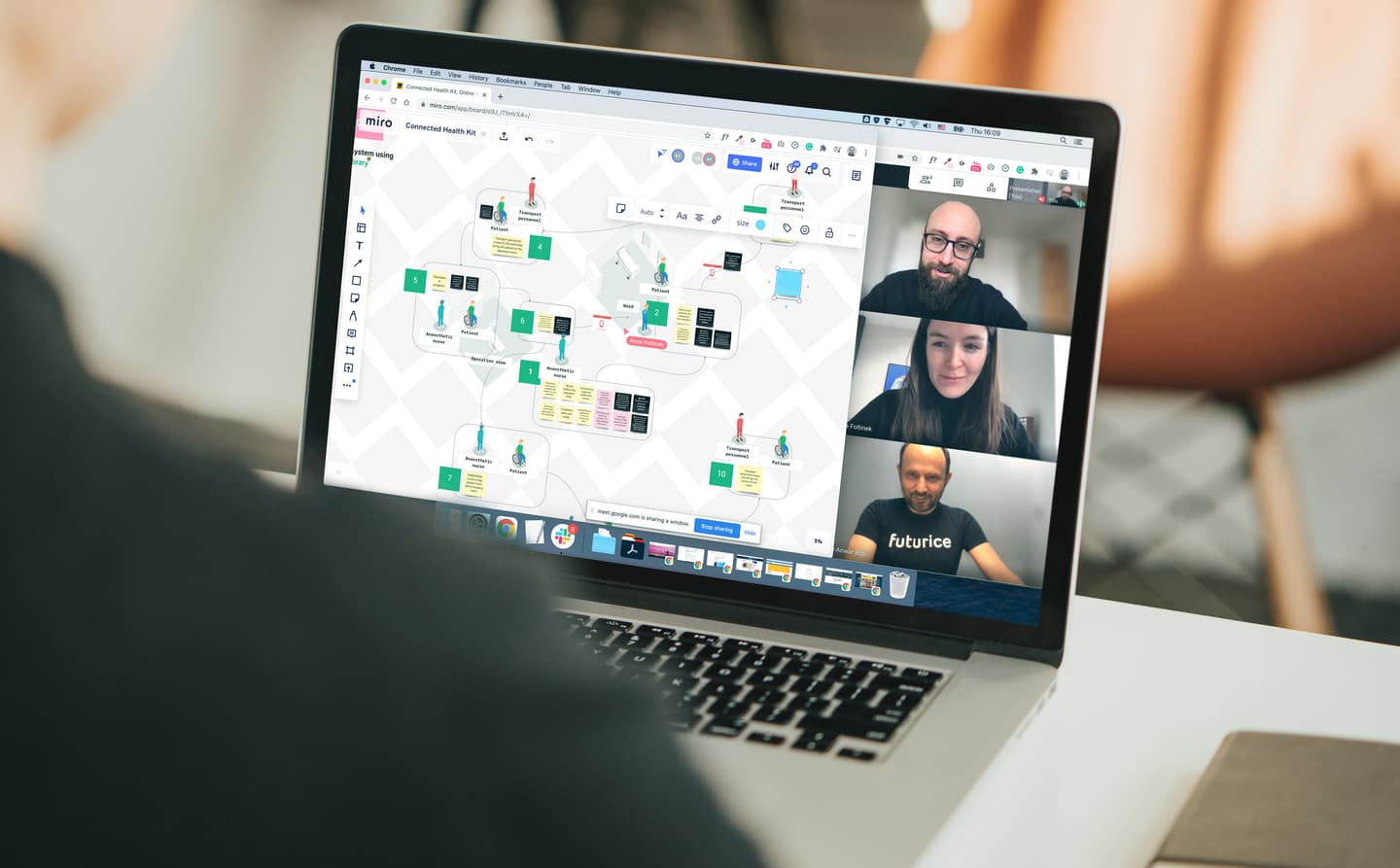 In many ways, the health sector sits firmly at the apex of scientific innovation, and for good reason. Some of the recent advances in life-saving treatments and medical technology we have at our disposal today, thanks to advanced medical engineering, would have been sheer science fiction just a few years ago.
But there's always a but – and healthcare is no exception, regardless of all that scientific prowess and shiny, new medtech.
When it comes to operational improvements and innovation in things like workflows, processes, decision-making or communication, the health sector suffers from its own variation of the same pain points as many other business domains we've worked with over the years. These issues aren't limited to patient care, but also affect pharmaceutical and medtech companies and labs similarly.
And just like manufacturing, travel or banking, to name a few examples, the health industry is ripe with concerns over changes and disruptions in the business landscape and how to adapt to them, as digital innovation becomes increasingly necessary to stay competitive. The same applies to figuring out what to do with data, or which parts of the business need to be digitized first.
As it turns out, making informed decisions is universally hard. Who knew, right?
How service design can help the health industry
While the health industry has plenty of problems to tackle, the good news is that organizations can depend on external help and know-how.
Within the health sector, Futurice has worked with a number of companies in various capacities, including developing mobile services that support preventive healthcare, and service design to improve interactions between disabled children and their support workers. And these represent just part of our entire service portfolio. Futurice's offering also covers deeper investigation and research, digital innovation and execution – but in many cases, an important starting point for organizations is to thoroughly understand their situation and find alignment with key stakeholders and end-user groups.
This is crucial in order to successfully address the specific business issues that really matter in terms of staying relevant. Instead of generic cookie-cutter solutions, each organization requires an individual approach based on, and carefully tailored to, its status quo.
One of the most recent additions to the Futurice toolbox, the Connected Health Kit, was launched in March 2021 specifically for the health industry, and with this particular need in mind. The Connected Health Kit is a free-to-use set of tools reminiscent of a board game, designed to help organizations map out and analyze dynamics and workflows in medical environments and identify their problem areas to easily target and plan future improvements.
Additionally, the kit offers an approachable way to address these problems by co-creating new service concepts for various contexts – not just hospitals, but also areas such as medtech, remote care, labs and pharmaceuticals – and ideate future workflows based on emerging technologies and data. It brings together people from different backgrounds – like doctors, patients, scientists, laboratory techs, and administrative staff – to help find alignment and shared understanding about a given workflow in a visual way.
The kit's end goal is to help simplify complex processes and make health industry workflows easier for everyone involved. To get an idea of how the kit is used, please take a look at the video embedded at the end of this blog post.
During the first couple of months after its launch, the Connected Health Kit has seen an overwhelmingly positive reception, and it has already sparked some very engaging interactions within the health industry. As one of our clients put it, "We can see incorporating the kit into our design process whenever we want to make a change to our workflows." As far as testimonials go, that's pretty tough to beat.
Versatility demonstrated by real-world cases
Our first discussions have also yielded valuable insights that speak to the versatility and modularity of the Connected Health Kit, suggesting that the kit has plenty of potential beyond the use cases or approaches we've initially thought of.
In the following, I'll go over two specific cases that demonstrate how the kit lends itself to various scenarios. The names of the organizations have been redacted for the sake of confidentiality, but these are real-world cases.
Case X: Using the Connected Health Kit to understand the status quo
The first of our two examples showed that improvising with the kit is not only possible, but also highly beneficial in some cases. While discussing our suggestions for different approaches for applying the kit in our client's situation, it quickly became obvious that their problem area – related to value loss and pain points along the patient journey of a specific type of surgery – was so complex that they would benefit from doubling down on the status quo investigation phase.
Instead of opting for a single status quo workshop, the client elected to focus more on really understanding the differences and nuances between various environments through a series of workshops before choosing the right solution to invest in.
Lesson learned: while the kit offers a powerful array of tools for the creation of connected and data-enabled digital services, you don't have to go that far to benefit from using it. Thoroughly understanding your starting point and the challenges you are facing is the first step in addressing the right problems and successfully solving them. Sometimes the smart thing to do is to refrain from rushing into action, and if you need to zoom in and examine the status quo from multiple perspectives, the kit is equally capable on that front.
At the time of writing, we are already discussing additional opportunities in using the kit to map out a completely different patient journey and ideate possible digital services for that context.
Case Y: Breaking down silos with the Connected Health Kit
In our second example, a different client was looking to digitize and automate certain laboratory workflows as smoothly as possible. The goal was to get this done without disturbing the lab process on the one hand, or burdening IT whose responsibility it is to design and implement the automation.
A major pain point in this case was establishing common buy-in for the project and supporting communication between the two stakeholder groups – lab technicians and IT – by ensuring that they both speak the same language. One particularly important aim was to avoid a situation where IT moves ahead to create a solution without proper alignment, and scientists feel it misunderstands their work or is forced onto them.
The Connected Health Kit was a strong candidate – and not just in terms of being a good fit for testing and refining those automations. It is also a potent tool when it comes to mapping problem areas and making sure the lab scientists' point-of-view and needs are properly understood before an automation is created.
Given its inherently collaborative nature, the Connected Health Kit is by design a great way to break down silos, bring the right people together in a workshop to find common alignment, and offer them a seat at the table when decisions are made.
The kit's approachable board game-style design also plays a big part in illustrating and understanding the workflow in practice and reaching a consensus in a way that's accessible to participants from all backgrounds. In scenarios like this, the kit serves as neutral territory that helps people work on the same problem and come up with impactful solutions.
How the Connected Health Kit can help solve deeper underlying problems
Just like with any other tool, the value and utility of the Connected Health Kit is dependent on the applied methodology – how you use it, and what you use it for.
The real-world examples we've seen so far, after just a couple of months since the launch, are encouraging. They offer evidence for the kit's plasticity and adaptability, and demonstrate its potential to help untangle actual problems that the health industry is facing.
In our experience, when organizations struggle to innovate an established process or workflow, many of them may in fact need more than just a solution for a specific problem. In many cases, these organizations could also benefit from changing their ways of working to overcome hidden issues that may hinder innovation.
This is why the biggest and ultimately most helpful feature of the Connected Health Kit is that it helps and encourages organizations to look at their work in a new light, challenge their assumptions and find new ways to approach their problems, and, ultimately, work better by implementing proven best practices – such as the ones at the core of the Futurice approach. Challenging assumptions is key to our ways of working in all areas from software and data engineering to service design and strategy work.
With the right tools and the right mindset, gathering around to innovate solutions to a problem can have a far-reaching transformative effect and help you evolve your ways of working and thinking far beyond the initial problem.
---
Read more about our approach to the health sector and the work we've done together with our clients. For more information about the Connected Health Kit, please take a look at this page as well as this blog post.
Henry Burnett

Product Owner Connected Health Kit & Software Developer, Germany
Case studies on innovation in the health sector