Back to Blog
FutuStories - Nine things that make me happy, an interview with Till Kleinhans
Till is a UX and business designer who makes his clients happy with thoughtful designs while also trying to find the right balance for contentment in his personal life. Here he reflects on nine things that make him happy, from intellectual curiosity to a bellyful of good food.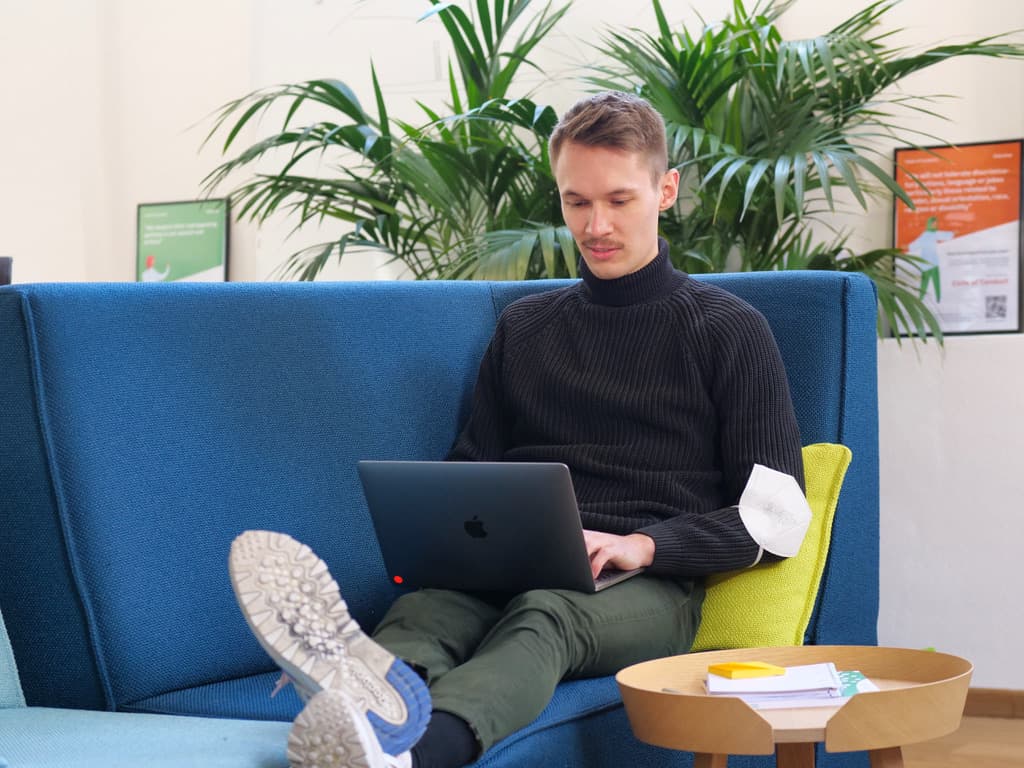 1. Understanding new aspects of the world
I'm a very curious person so it's no wonder I've worked in multiple areas, including industrial design, media, computer science and now business design. When I look at an unfamiliar field, I see a black box and want to get to its core and understand an aspect of the world that was previously hidden to me. I'm always happy when there is one less black box in the world – and there are always more to find, which is also a great thing.
2. Having an extraordinary conversation that blows my mind
I don't really like small talk – you won't find me chatting for half an hour about soccer or the weather. Instead, I really appreciate conversations where I find something in common with someone and we can just walk around the topic and wonder how many other perspectives there are out there. Expanding my understanding makes me happy – in terms of equality, many of us don't realize how privileged we are so it's great to learn how other people see the world. As designers, we really benefit from doing this, and it's very important to do so – we're a community and we don't just learn or design for ourselves.
3. Combining different skills to solve a challenge
Throughout my career I've benefited from understanding different areas – for example, when I was doing UX design with strict technical limitations I benefited a lot from my understanding of computer science. Being able to speak the same language as the developer on the client side helps you understand the context and create a solution that really serves their needs.
4. Beautiful things
As a designer, it's no surprise that I appreciate beautiful things. Design is the combination of aesthetics and function – it's often beauty that initially draws people towards a career in this field. This can make perfectionism a challenge, but I've learned to work quickly while making beautiful solutions for clients. That said, in my own time I can still occasionally drive myself crazy, like when I look at 300 different options just to choose the perfect tennis racket!
5. Winning
I can be very competitive and while I don't ever take it too far, it's always a good feeling to win. I play basketball once a week, padel when it's warm enough and play table football whenever I can. We don't have a table at the Munich office but there is one in Berlin – if I worked there I'd play it every day! I also always have the drive to win if I'm involved in a competition, like creating business models or products in hackathons and makeathons. It's the same in client pitches and even when creating a solution – I'm not necessarily competing with others, sometimes I'm competing with the problem. Overcoming complex challenges is a great feeling.
6. Scuba diving
This is something that makes me really happy – in fact, it's my favorite thing to do in my own time. I wouldn't want to get an instructor's license and do it full time, but it's a special feeling and one of the few things that put me completely in the moment, away from any distracting thoughts. When I don't have scuba as an option I can always meditate, but for me there's nothing like the fully immersive feeling of diving – it's like flying underwater. It's the best feeling in the world.
7. Working with my hands
Everyone needs balance in their life. I'm working in an intellectual profession, using my mind more than my body, so it's good to get back into a workshop and physically work on something tangible like a bicycle or furniture. This is something I enjoyed about industrial design – being in the workshop and able to create anything my imagination and skill level made possible. If an intellectual challenge is making your head spin at work, it's nice to come home and indulge in an activity that doesn't involve so much mental effort.
8. Film photography
This is another hobby of mine – it's a nice change to taking pictures with my cell phone. I like the constraint of only having 36 shots on the roll – each picture costs around a euro, so you have to value each shot and put the effort in, then you get rewarded once they're developed. I never fill the whole roll in one day, so it's like a bag of surprises when I hand it in – there might be photos from a party, a walk somewhere beautiful, a vacation or something else. I always shoot in black and white and it makes me happy seeing beautiful shots of our world.
Caption: Dare to jump into cold water – it's less cold than you'd think! Photo: Till Kleinhans.
9. Flavorful food
In Europe the food can be quite plain. I prefer foods with more complex flavours like you find in Vietnamese, Indian, Moroccan and West Asian cuisine. When I was on an exchange semester in Singapore, I discovered food courts with cheap prices and a whole range of flavorful food from across Asia. You can eat something new every day – I fell in love with Vietnamese food there and it made me very happy indeed!
---
*Interested in reading more stories about us and our people? At Futurice, we celebrate diversity and cherish everyone's unique journey. Check out our Welcome Hope Page and get inspired by more journeys shaping our culture. If you would like to read more stories and get to know our people, our sites and the community better, check out the global version of our FutuStories Booklet
Christina Klein

Marketing & Communications Manager